Dog Food Label - How to Read & Choose the Right Option
In addition to explaining each dog food label element and teaching you what to look for, this page will also walk you through a real label.
Put on your learnin' cap and get your favorite dog food label ready so you can follow along.
We'll wait right here...
Got your label? Okay, here we go.
Remember, once you understand the concepts on this page, you can always use our free Healthy Label Test to make sure that your dog food makes the grade.
The Center for Veterinary Medicine requires each dog food label to provide:
And each state or specific brand can choose whether to enforce the Association of American Feed Control Office's (AAFCO) standards, which get even more specific for:

Let's start with the product name...
Product Name on the Dog Food Label
The dog food label product name is one of the biggest ways to lure you to buy, and dog food manufacturers know it.
Don't forget!
AAFCO has no regulatory power. They only provide guidelines for companies and the states to follow if desired, so you are right to be skeptical about any brand until you have fully researched it for yourself.
Unfortunately, even AAFCO's standards allow labels to mislead the common consumer.
For example, what is the difference between:
Lamb Dog Food
Lamb Dinner Dog Food
Dog Food with Lamb
Lamb Flavored Dog Food
See what we mean?
Here is what you should look for in the product name:
Rule
What it Means
Examples
Tips
"95%"
At least 95% of the product must be the named ingredient, not counting water and "condiments." Counting the water, the named ingredient must still make up 70%. If two ingredients are listed, they must combine to make up at least 95% (or 70% including water). Only meat can be used to make up these percentages, so other ingredients like grains or vegetables can not be used in the calculation.
"Beef for Dogs" must be 95% beef.

"Lamb and Rice Dog Food" must be 95% lamb.
Make sure the named ingredient is the first on the dog food label list of ingredients – if it is not, you can be sure that it does not make up the required percentage.
"25%" or "Dinner" (other descriptors are allowed, such as "entrée," "formula," "nuggets," and "platter")
Applies to many canned and dry products. The named ingredients must make up at least 25% of the product (not including water) but less than 95%.
"Beef Dinner for Dogs" must be between 25% and 95% beef.
The named ingredient will probably be third or fourth on the dog food label ingredient list. Other unwanted ingredients not used in the product name may be more prominent.
"3%" or "with"
The term "with" can be used either in the dog food label product name or as a side burst if the food is comprised of at least 3% of the named ingredient.
"Beef Dinner with Cheese" must be at least 3% cheese.
Pay attention to where the ingredient falls on the ingredient list; the higher up, the bigger the percentage.
"Flavor"
No specific percentage is required to use the term "flavor," but the product must contain a sufficient amount to "be detected" by specific test methods. The word "flavor" must be the same size, style and color as the named ingredient.
"Beef Flavor Dog Food" must have a trace of beef ingredients.
The corresponding ingredient could be in the product, but more likely than not another cheaper and less healthy substance will give the named flavor (i.e. beef meal, beef by-products, digests, stocks or broths).
"Stew," "in Sauce," "in Gravy" or other similar terms
The maximum percentage moisture content for pet food is 78%, except when these terms are used. They can have up to 87.5% moisture.
"Beef Stew in Gravy" can have up to 87.5% moisture.
The moisture can really throw off your understanding of how nutritious a product is for your dog. Always calculate and compare the dry weight of a product when making a selection. Many of the dog food recall problems were with pet food with gravy. Steer clear to be on the safe side.
"Complete," "Balanced," "100% Nutritious," or other similar terms
Statement must be proven by…

1) Following established guidelines confirming that food truly contains levels needed for a healthy animal

2) Actually being tested by AAFCO
…and indicate the appropriate life stage.
1) "Formulated to meet the nutritional levels est. by the AAFCO… Profiles"

2) "Animal feeding tests using AAFCO procedures…" …"for growth"
In order to believe the claim, make sure the dog food label contains the AAFCO or other reputable organizations' name.
"Premium," "Super Premium," "Ultra Premium," or "Gourmet"
NOT required to have any different or higher quality ingredients and NOT held to any higher standards.
This was a shocker the first time we heard it. Don't be sucked in by this terminology without reading the rest of the label.
"Natural" or "Organic"
See our Natural Organic Dog Food vs. Commercial Dog Food page
To complicate things even further...
Lamb is not the same as lamb meal or lamb by-products, which is why you should pay particular attention to the dog food label ingredient list.
Dog Food Label Ingredient List
According to AAFCO, all dog food ingredients are supposed to be listed by their "common or usual" name and listed in order based on how much of each ingredient is found in the food.
Sounds simple, right? Not so fast.
This section will review...
Order of Ingredients on Dog Food Labels
The ingredients listed on dog food labels are required to be in order of their prominence by weight. However, manufacturers are allowed to include water weight when calculating the weight of each ingredient. This can cause the ingredients to be very misleading.
For example, meat contains about 75% water. Although it may be listed first on the ingredients list, it may not provide the amount of protein that your dog needs (or you think you're getting).
In addition, you probably won't recognize many of the less prevalent ingredients towards the bottom of the dog food label ingredient list. These can include good things like vitamins, minerals and nutrients or not-so-good things like artificial colors and chemical preservatives.
Most of the lower-listed ingredients will be "Generally Recognized as Safe (GRAS)" or approved food additives. This only means that the ingredients are not directly harmful to your dog. They may, however, be indirectly harmful...
Harmful or Controversial Ingredients
Several dog food ingredients have been found to be harmful but have not yet been addressed by the loosely regulated pet food agencies. These ingredients include: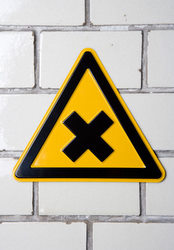 Any artificial coloring
Any artificial flavoring
Ammoniated lgycyrrhizin
Bone meal
Butylated hydroxytoluene (bht)
Chicken by-products
Corn syrup
Digest of poultry by-products
Dried animal digest
Dried liver digest
Ethoxyquin
Fish by-products
Fish meal
Liver glandular meal
Meat by-products
Potassium sorbate
Poultry by-products
Poultry by-product meal
Propyl gallate
Propylene glycol
Sodium nitrate
Sucrose
Why risk it? Play it on the safe side and AVOID these ingredients.
An Important Note About Raw Food
It is generally a good idea to balance your dog's diet with partially cooked or raw natural dog food and/or dog dietary supplements for several reasons:
See the following pages for more about all-natural dog food:
Protein – dog food labels do not distinguish between the biological value and digestibility of the protein in their products. A large amount of protein is essential for a healthy dog, but only if it is high enough quality for your dog's body to use it.
Carbohydrates are a great source of nutrients, but only in the form of complex carbohydrates such as whole grain. Low-value carbs include sugar, propylene glycol, corn syrup, rice flour, beet sugar, corn gluten meal and brewers rice.
Vitamins & minerals in dog food may be lost through heat processing. This is especially true for Vitamins A, E and B in dog food which are very important in fighting disease. Manufactured foods may contain minerals in their basic form, but it is doubtful that they are as beneficial as the complex forms found in nature.
Other Important Dog Food Label Elements
This section will review the following dog food label elements and why each is important...
Net Weight
The net weight dog food label requirement is strictly regulated by the U.S. Fair Packaging and Labeling Act. It tells you the weight of the product and is especially important towards helping you understand what you are paying for when comparing products.
Manufactures play plenty of tricks such as adding air to the product to fill a bigger bag with less dog food, so be sure to compare the net weight when comparing product pricing.
Manufacturer's Information
Many products on the shelves are not actually made by the brand or company selling the product. The "manufactured by..." statement on the dog food label will let you know who is actually making the food and who you should be researching.
For example, you may want to avoid manufacturers involved in any recall of dog food.
Guaranteed Analysis
Each dog food label must include guarantees for the minimum percentages of protein and fat and the maximum percentages of moisture and fiber. You may also find minimum guarantees for calcium linoleic acid, phosphorus, sodium and other ingredients.
Why are the guarantees important? They give you an accurate way to compare the protein, fat, moisture and fiber (and other) content between dry and canned foods.
The guarantees will usually be much lower for canned dog food because canned foods are 75% - 80% water, whereas dry foods only contain about 10% water.
Here are the formulas to put the canned and dry food on a level playing field (don't worry... there's an easier way to do this that we'll cover in a sec):
Percent of dry matter = 100% minus % of moisture guaranteed on the label
Guaranteed amount in canned food dry matter = % of guarantee divided by % of dry matter times 100
Guaranteed Analysis Formula Example
Product A - Canned food guarantees 10% protein and 75% moisture (25% dry matter)
Product B - Dry food guarantees 30% protein and 12% moisture (88% dry matter)
Which food contains more protein?
Let's apply the formula:
Canned food: 10% protein / 25% dry matter X 100 = 40% protein
Dry food: 30% protein / 88% dry matter X 100 = 34% protein
At first glance, you may have bought the dry food given the higher percentage of protein on the label, but now you know that the canned food in this example is the winner.
Not a fan of carrying a calculator with you to the store? Neither are we.
Use the following shortcuts to quickly calculate and compare the dry matter found in canned and dry foods...
Canned food: Multiply the guaranteed percentage by 4

From example above: 10% protein guaranteed X 4 = 40% dry matter protein

Dry food: Add 4% to the guaranteed percentage

From example above: 30% protein guaranteed + 4% = 34% dry matter protein
The math won't always be perfect but it will keep you on the right path.
Feeding Directions
Every dog food label should indicate the necessary number of cups to feed your dog per day based on their body weight.
But only use this as a starting point.
Adjust the amounts based on your dog's individual characteristics and dog weight loss/gain requirements.
For example, if you are feeding a nursing mother, give her all she can eat. If you are trying to help an overweight dog get back down into their normal weight range, use less than what is indicated on the label.
Calorie Statement
A variety of factors can make a dog food's fat content difficult to determine, so the best way to compare products and determine how much to feed your dog is by evaluating the calorie content. Although the calorie statement is not on every dog food label, new AAFCO regulations were created to allow manufacturers to prove their claims.
Always lean towards brands that include calorie information as it is a strong indication that the brand is complying with AAFCO standards.

Apply What You Have Learned with a Real Dog Food Label
In this section, we will include images of the front and back of Solid Gold Hundchen Flocken Puppy Food followed by an analysis of each front/back label element...
Front Label of Dog Food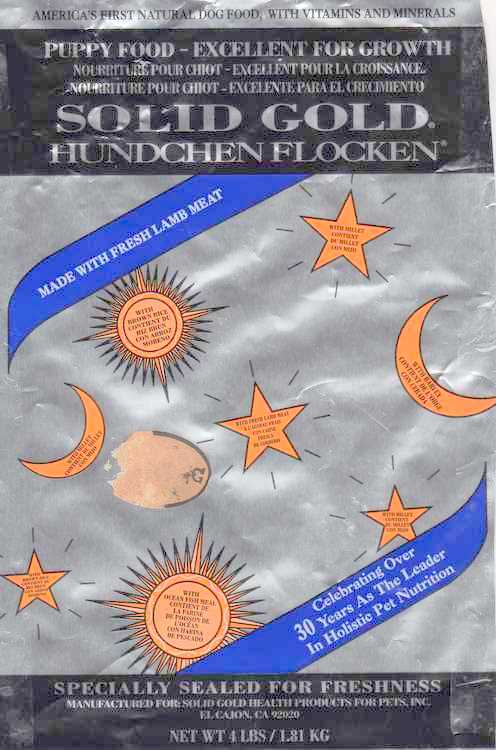 Click here for more details about Solid Gold Hundchen Flocken
Product Name
"America's First Natural Dog Food" - Labeled "natural," so it should be without chemicals or preservatives.
"With Vitamins and Minerals" - Must contain at least 3% vitamins and minerals
"Made with Fresh Lamb Meat" - Must contain at least 3% lamb meat
"Puppy Food – Excellent for Growth" – indicating which life stage the product is meant for since they are explicitly using AAFCO's guidelines
Net Weight
Manufacturers Name
"Manufactured for" indicates that Solid Gold did not actually make the food, but the bag does not tell us who actually manufactured it. (Although Solid Gold is a good brand, this proves the point that the guidelines are not enforced since technically they are supposed to tell us this information on the bag.)
To make sure that the food was safe, we called Solid Gold to find out who the manufacturer was, whether they were affected by the recall and, just to be safe, which countries the ingredients came from.
We found that Diamond Plants are their manufacturer. Although Diamond WAS effected by the recall (Texas plant), the plants used to make Solid Gold were not (Missouri and California).
We also found that all of the ingredients are from the U.S. except for the lamb (New Zealand), potato protein (Europe but not the Netherlands) and tuna (Thailand). No China, no Netherlands (as discussed on our Dog Food Recall page) – check.
Back Label of Dog Food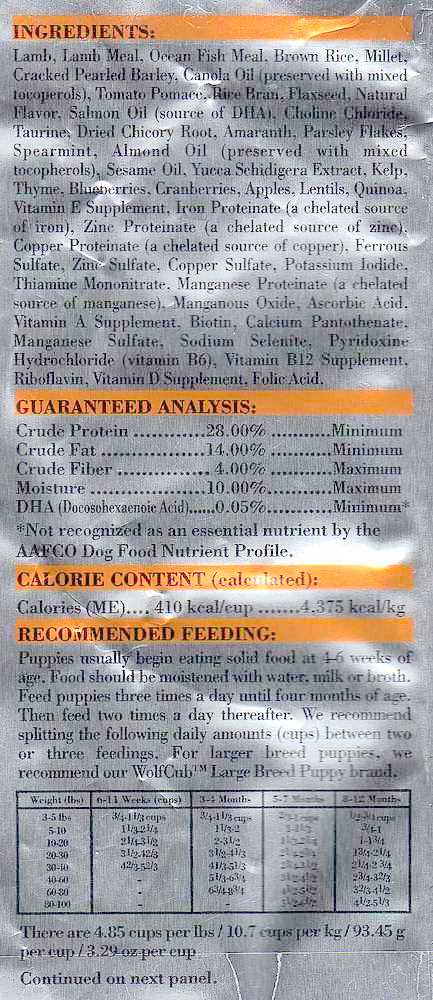 Ingredient List
"Lamb" is listed first, so we know that it is the most prevalent by weight (likely higher than the required 3% indicated from the product name)
Contains none of the harmful or controversial ingredients listed above
In addition to listing "lamb" first, this food contains many more sources of protein (lamb meal, ocean fish meal, lentils, etc.), so we are more confident that our puppy will get the proper amount of protein. This is further supported by the Guarantee Analysis below. Since growing puppies REALLY need protein, we still supplement our puppies' diet with partially cooked meat and other protein sources.
Guaranteed Analysis
Note: You really only need to worry about the guaranteed analysis calculation when you are comparing canned (wet) foods. The 28% crude protein listed is very close to the actual 31% protein because the food is dry.
As a reminder, it is easier to use the "times 4" rule when figuring out actual protein for canned food. For dry food, you can just bump up the number by 3 or 4% for comparison purposes.
By using the formula discussed above, we know that this dry food contains 31% protein:
28% protein / 90% dry matter X 100 = 31% protein
The same calculations are used for the rest of the guaranteed ingredients.
Calorie Statement
Calorie information is provided, which reassures us even further that this brand is on top of things.
Feeding Directions
Directions are included and amount by weight is provided in an easy-to-read table format – perfect.
Back Label of Dog Food (continued)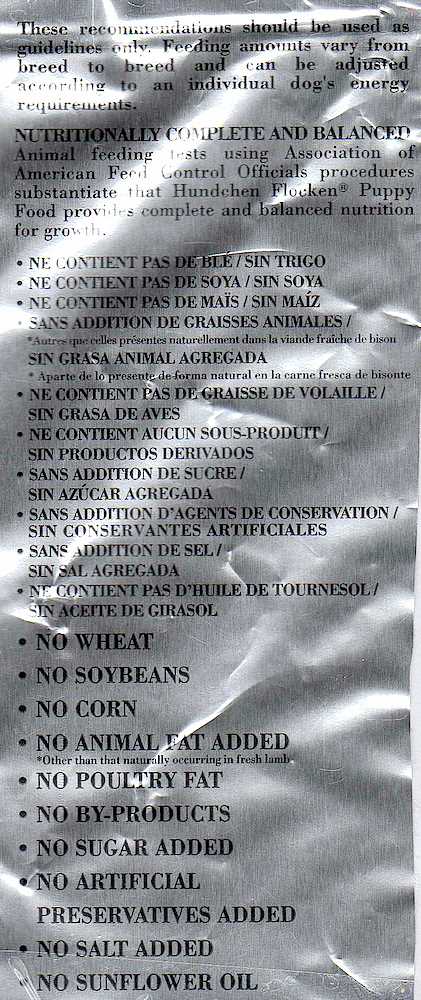 Other Points
Although not indicated in the product name, the back of the bag states "Nutritionally Complete and Balanced" using AAFCO's standards – big positive.
Packaging explicitly states that it does not contain several potentially harmful or questionable ingredients (i.e. "No Byproducts").
Summary of This Dog Food Label
We are very pleased with the label analysis of Solid Gold Hundchen Flocken for all of the reasons listed above (surprise, surprise, we feed this to our puppies!). It follows AAFCO's guidelines, has the protein and nutrients they need, has no known "bad" ingredients and is from a brand who gets their food from safe manufacturing plants.
Can't find your answer on this page? Our veterinarians will answer your specific question no later than tomorrow... click here to ask a veterinarian via My Online Vet.
You can also review related questions from other visitors here: Ask a Vet Online Library - Dog Food Diet - Dog Food, Dog Treats & Homemade Dog Food Recipes Section
Do you believe in holistic pet care? If so, please tell your friends about us with a Facebook like, Google +1 or via Twitter, Pinterest, email or good old fashioned word of mouth. Thank you for supporting our efforts!
New! Comments
Have your say about what you just read! Leave a comment in the box below.
For additional research, search for your topic...
Disclaimers: The information contained in this web site is provided for general informational purposes only. It is not intended as nor should be relied upon as medical advice. Rather, it is designed to support, not replace, the relationship that exists between a pet owner/site visitor and his/her local veterinarian(s). Before you use any of the information provided in the site, you should seek the advice of a qualified professional.
In the spirit of full disclosure, we wanted to let you know that we proudly support this website through advertising and affiliate marketing. In other words, when you click on a link that takes you outside of this website, we often earn a small commission. These small commissions allow us to keep the site up and running and to continue offering it completely free of charge to you. Rest assured that all content, recommendations and advice are created before, and are independent of, any sponsorship or affiliate relationship.
Click here
for more info.