Dog "eyeliner" peeling/disappearing & chin rash
by Heather
(Pittsburgh, PA)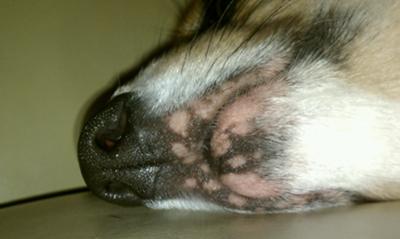 Punky's chin irritation
My 4 year old Welsh Corgi girl, Punky, has has had zero skin issues until the past two months. Initially, I noticed some discoloration on her right eyelid. The black "eyeliner" that is present on most dogs seemed to be peeling and disappearing, but she did not appear bothered.
Next I noticed her chin began to "break out" in the rash indicated in the picture. I changed her food soon after these worsened and also switched to stainless steel food and water bowls. Neither seemed to help.
We did visit my vet and she believes it is an allergic reaction to something in her environment. She suggested it might even be caused by the heat being turned on and circulating new dust particles.
She also recommended giving Benadryl 1 per day, 25 mg as Punky is 25 lbs. I did give it to her a number of times and it seems to help somewhat. My vet wanted us to return if either condition worsened or she appeared to be bothered or in pain.
Punky does not appear to be in pain but is growing weary of me checking her eyes and mouth as both her left and right bottom eyelids have "peeled" where they were black, and her chin continues to "break out".
I have researched these two conditions exhaustively on the internet with little success finding similar symptoms. With the pictures, can you provide any more insight?
Want to ask our veterinarians a

question but haven't subscribed to My Online Vet? Click here to learn how or click here to go back to the Ask a Vet Online Library of questions.
Want monthly "News You Can Use" and important Organic Pet Digest new content updates? Click here to sign up for our FREE Dog Care Monthly newsletter.
Do you believe in holistic pet care? If so, please tell your friends about us with a Facebook like, Google +1 or via Twitter, Pinterest, email or good old fashioned word of mouth. Thank you for supporting our efforts!
For additional research, search for your topic...
Also see...