Dog eye transitioned to dark gray color, now appears blind
by Carol
(Iowa)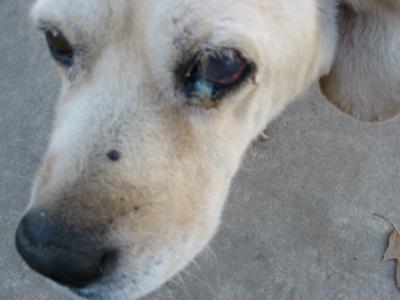 My dog's eye lens recently started to look "see-through" (like human lens implant). Her pupil got bigger, then her eye matted shut, then her eye turned dark gray. She now appears blind in left eye.
Here are her stats:
- 13 yr old yellow lab mix unspayed.
- Never been to vet until inherited yr ago.
- Couldn't get around well, given Rimadyl (caused bad skin lesions)
- Given antibiotcs 4 weeks. Became nauseated, listless. Stopped meds, got better.
- Found to have heart worms. Gave heart worm preventative.
My dog doesn't seem to be in pain. We didn't want to take her to vet because antibiotics hurt, she lost lot of weight and she's so old.
Q: Is this just age-related? What can we do with her eye? We have other dogs that don't seem to have any problems.
Want to ask our veterinarians a

question but haven't subscribed to My Online Vet? Click here to learn how or click here to go back to the Ask a Vet Online Library of questions.
Want monthly "News You Can Use" and important Organic Pet Digest new content updates? Click here to sign up for our FREE Dog Care Monthly newsletter.
Do you believe in holistic pet care? If so, please tell your friends about us with a Facebook like, Google +1 or via Twitter, Pinterest, email or good old fashioned word of mouth. Thank you for supporting our efforts!
For additional research, search for your topic...
Also see...