Dog eye infection-discharge,redness and pimple on eyelid
by Samantha Wei Xu
(Dubai,UAE)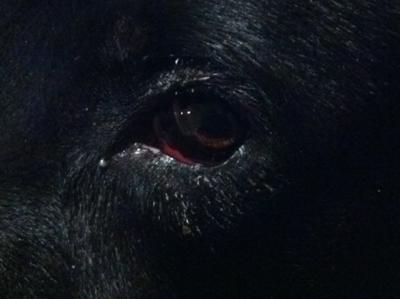 First day-swollen
I sent my dog to a 'daycare' center for a day play (first time)on 5th Feb. After she came back at the end of the day, I found some gray, milky color discharge came out from her left eye.


Both of her eye lids of the left eye were very thick (double or triple her right eye). Though both her eyes were red, only the left eye was swollen. I could also see her third eye lid on left side.
She was happy and jumpy. She was trying to wipe off the discharge, otherwise she was not too much bothered by the situation.
In addition to the redness and swelling, the inner corner of her lower eyelid shows a pink color other than black skin/hair, as if a piece of skin was scratched off. The hair around her left eye was falling off as well.
Later that night, the redness in her right eye seems to have disappeared. I bought Fucithalmic eye drops to apply on her eye lid. The following day, discharge was disappearing and the swelling has improved. The third day, I could see almost no swelling.
However, from yesterday, the pink part in lower eye lid became very obvious, and there are more small pink areas (2-3) showing along the lower eyelid. Strange enough, a 'pimple' popped up on the inner corner of her upper eye lid. It is small but can see some irregular 'wrinkles' on it. Around the pimple, hair-loss was very severe.
Jade is a four-year-old female black Labrador. She is slightly overweight (37kg) but otherwise in great health.
I am traveling in a week and she will be staying with a friend. I want to make sure she is well before I leave. Please tell me what should I do to help her.
Want to ask our veterinarians a question but haven't subscribed to My Online Vet? Click here to learn how or click here to go back to the Ask a Vet Online Library of questions.
Want monthly "News You Can Use" and important Organic Pet Digest new content updates? Click here to sign up for our FREE Dog Care Monthly newsletter.
Do you believe in holistic pet care? If so, please tell your friends about us with a Facebook like, Google +1 or via Twitter, Pinterest, email or good old fashioned word of mouth. Thank you for supporting our efforts!
For additional research, search for your topic...
Also see...
Disclaimers: The information contained in this web site is provided for general informational purposes only. It is not intended as nor should be relied upon as medical advice. Rather, it is designed to support, not replace, the relationship that exists between a pet owner/site visitor and his/her local veterinarian(s). Before you use any of the information provided in the site, you should seek the advice of a qualified professional.
In the spirit of full disclosure, we wanted to let you know that we proudly support this website through advertising and affiliate marketing. In other words, when you click on a link that takes you outside of this website, we often earn a small commission. These small commissions allow us to keep the site up and running and to continue offering it completely free of charge to you. Rest assured that all content, recommendations and advice are created before, and are independent of, any sponsorship or affiliate relationship.
Click here
for more info.