Dog Eye Growth, Swollen Eye with Puss Other Eye & Mucous in Poop
by Kristin
(Wailuku, HI, Maui)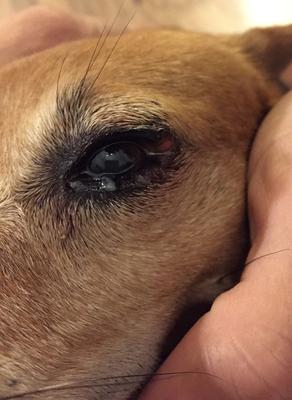 The bad eye with the growth in the corner
Our 11 year old Chihuahua Dachshund mix (we only got her a year ago... she was a stray) has had a growth on here eye as long as we have known her (not sure how much before then..) and the vet looked at it a year ago and said he wouldnt do anything to it if it doesnt bother her.


The growth has swollen a few times but always went back to normal within a couple of days and it always seemed to happen when she was a bit off (loose stool, very tired...).
Since almost 2 weeks now the growth is swollen again, however, in a different way then it did in the past.. this time the swelling is more on the inside of the eyelid (usually it kind of bubbled up to the outside) and also her underlid seems swollen.
I went to the vet 10 days ago and he put some green stuff in there (to see how far it spread?). It was a different vet (our usual one was on holidays) and he said that he thinks the growth would be big enough to get cut out (about 450$ but more importantly under general anesthesia which is what scares us due to her age). He gave me some eye drops which seemed to help at first...
After a few days however it wasnt just that (left) eye that was acting up, also her good eye was having lots of puss in there and continues to do so... lots and lots in the morning, but also during the day.
Since I have noticed the connection between her not being well and her eye acting up I really paid attention to her stool which was pretty normal at first but has had lots of mucus (more than i have ever seen in the past) in there over the past few days.
I have stopped giving her the eye drops after 5 days (the vet never told me how long to use them but the package says to not use for more than 10 days under any circumstances) and have just cleaned the eyes and put sprayed a little coloidial silver on the outside of the eyes a few times a day. At times it felt like it was getting better, but just to get worse again..
Other than her (her name is Red) not seeing well when she has all the puss in the eye it seems to bother her only sometimes... and then she tries to scratch (which has lead to it bleeding a bit sometimes..) and shake her head sometimes.
She sleeps a lot (but she always does), hasnt eaten as much as normal (other then when I make her minced beef which she loves) but runs around like a young pup when I walk on the beach with her every evening and seems very happy then. She loves hanging her head out of the window when we drive to the beach and back but I have only allowed her to do that when I
go very slow since her eye has gotten bad..
Another thing that is kind of weird is that she has been sleeping outside (on an old papasan chair in the shed) a lot, especially during the day. She usually just sleeps in her dog bed during the day and night, but since here eye started playing up she seems to spend a lot more time away from us / outside. I have also been wondering if maybe it was the other way around and she started spending more time out there and this might have lead to her eye getting bad (anything she could be allergic to?). It does seem to my husband and I as if the eye is more swollen when she comes from the shed, but no way to be sure really.
Because of that thought of her being allergic to something I also stopped giving her goats milk a couple days ago (we have a baby goat that gets the bottle and Red loved to lick the left over milk out of her bowl...) but this doesnt have seemed to effected her eye in a positive way so far.
I do feel like she first started getting the problems with her eye when we gave her little bits of a Jack in the Box lunch (we really dont do fastfood very often, but did that one day and she got a lot of that one burger paddy). But I have paid attention to only giving her the Newmans Own all organic wet food and Natural balance dry food (which is one of the very few she eats).
One more change in her environment is a whole lot of sod that we got from a local farm (was all free from craigslist and includes a lot of weeds but has never been fertilized). She likes that grass as much as our other grass and likes rolling around in it..
I have tried to take pictures but of course its not easy... Let me know if I can send anything else that might help.
Red is getting worm tablets (Iverhart Max) and flea/tick drops (K9 advantixII) on her fur every month (on the 23rd... which was just a day after her eye started getting worse) and as per the vet she would also be due for her booster shots (after we had her vaccinated a year ago when we first got her). I give her Probiotics (which she loves) whenever her poop isnt good and some paste from Germany for bone and joint health.
Last but not least we are on Maui/Hawaii and there are no homeopatic vets here on the island (or on any of the others) as it looks like.. so unfortunately I cant consult anyone here..
o.k., now I really cant think of any more info that could be of importance in this case. I really hope you can help us and Red does not need to go under the knife.
Thanks so much for now and all the best from Red and her family
Want to ask our veterinarians a question but haven't subscribed to My Online Vet? Click here to learn how or click here to go back to the Ask a Vet Online Library of questions.
Want monthly "News You Can Use" and important Organic Pet Digest new content updates? Click here to sign up for our FREE Dog Care Monthly newsletter.
Do you believe in holistic pet care? If so, please tell your friends about us with a Facebook like, Google +1 or via Twitter, Pinterest, email or good old fashioned word of mouth. Thank you for supporting our efforts!
For additional research, search for your topic...
Also see...
Disclaimers: The information contained in this web site is provided for general informational purposes only. It is not intended as nor should be relied upon as medical advice. Rather, it is designed to support, not replace, the relationship that exists between a pet owner/site visitor and his/her local veterinarian(s). Before you use any of the information provided in the site, you should seek the advice of a qualified professional.
In the spirit of full disclosure, we wanted to let you know that we proudly support this website through advertising and affiliate marketing. In other words, when you click on a link that takes you outside of this website, we often earn a small commission. These small commissions allow us to keep the site up and running and to continue offering it completely free of charge to you. Rest assured that all content, recommendations and advice are created before, and are independent of, any sponsorship or affiliate relationship.
Click here
for more info.