Dog Eye and Skin Irritations
by Brandi
(Joplin, MO, USA)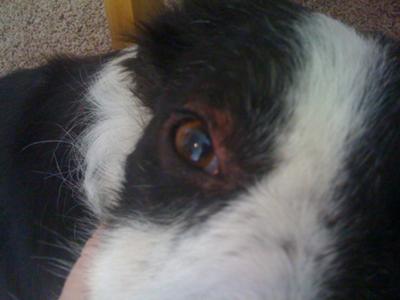 My dog Mattie has been itching, biting, and clawing herself to a raw mess. I assumed this was left over discomfort from the fleas (more on this in a moment), but it continues almost two weeks after she was treated.


Now she is targeting her eyes, rubbing violently and scratching them to raw bits. They are getting redder and redder and I am concerned that these might be related. Since they are getting worse and not better, I would appreciate your opinion.
Despite several (four now) thorough baths, the foul smell of her coat isn't improving at all and she continues to have flaky dandruff.
Now for some background... Mattie is a border collie that we rescued Thursday, November 4th. Her first trip to the vet after rescue (the same day), she got her vaccinations and was diagnosed with fleas, hookworms and heartworms. She was given Comfortis for the fleas, Pyran for the hookworms, and then ivermectin to start treating the microfilare of the heartworms with stronger treatments to come in the next few months. Behaviorally, she is an absolute darling.
For the record, I immediately started her on a raw meaty bone diet to give her the best possible food source. She eats no commercial dog foods, only chicken, beef, and lamb, raw and as whole as possible.
After reading your site, I prepared a warm saltwater solution and dabbed it on the affected eye area. This seemed to give her some relief and she is resting now without fussing over it.
I still would like your opinion on the matter, and her possible skin condition, to confirm that I am doing everything possible for my little rescue angel.
Thanks in advance,
Brandi
Want to ask our veterinarians a question but haven't subscribed to My Online Vet? Click here to learn how or click here to go back to the Ask a Vet Online Library of questions.
Want monthly "News You Can Use" and important Organic Pet Digest new content updates? Click here to sign up for our FREE Dog Care Monthly newsletter.
Do you believe in holistic pet care? If so, please tell your friends about us with a Facebook like, Google +1 or via Twitter, Pinterest, email or good old fashioned word of mouth. Thank you for supporting our efforts!
For additional research, search for your topic...
Also see...
Disclaimers: The information contained in this web site is provided for general informational purposes only. It is not intended as nor should be relied upon as medical advice. Rather, it is designed to support, not replace, the relationship that exists between a pet owner/site visitor and his/her local veterinarian(s). Before you use any of the information provided in the site, you should seek the advice of a qualified professional.
In the spirit of full disclosure, we wanted to let you know that we proudly support this website through advertising and affiliate marketing. In other words, when you click on a link that takes you outside of this website, we often earn a small commission. These small commissions allow us to keep the site up and running and to continue offering it completely free of charge to you. Rest assured that all content, recommendations and advice are created before, and are independent of, any sponsorship or affiliate relationship.
Click here
for more info.