Dog epilepsy / grand mal seizures
by Antoinette
(Sydney, Australia)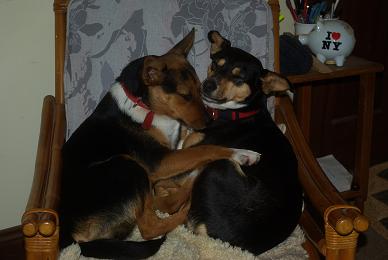 Bobbie RHS and best friend, Tuppence
Recently our dog Bobbi has had two episodes of seizures - the first group of 4 occurred over 36 hours at the beginning of February and another two on 23 February. These were "grand mal" or close clusters from the descriptions I have read.


The 2nd last one lasted around 10 minutes, with lots of frothing, thrashing paws and gnashing of teeth. When she regained consciousness, she was "freaked out", running like crazy around the property and baring her teeth and snarling, which she never does normally.
Bobbi is 3 years and 3 months old, female desexed, from a Jack Russell x Fox terrier mother and Kelpie father (an accidental mating as the dog was so much bigger than the bitch). She was the runt of a litter of six puppies and half the size of the others. She now weighs around 10.4 kg, is about 400 cm tall and body length (chest to tail) 420 cm. She is strongly muscled and in good proportion.
We got her from her first owners when they had to move into an apartment, a month short of her 2nd birthday. We had her de-sexed shortly after acquiring her.
She hasn't had any major health problems that we were aware of, though she did get a warm nose and was a bit lethargic from time to time for no obvious reason. At those times she would eat grass and occasionally sick up a bit of it mixed with bile and froth. Generally she is a very alert, active, affectionate dog.
We have mostly fed her on home cooked meat with brown rice and green vegetable (mostly bok choi)from our garden (organic), however I noticed that the meat comes packaged with preservative 220.
She also gets some dry Kibble as a supplement, which is Optimum brand and lists no preservatives. However, we also have to rely on tinned food when away at our remote holiday shack. We buy the best quality available at supermarkets here.
We are very careful about chemical use and poisons and generally don't use any - except for some snail bait but only in areas that she doesn't have access to. We use only environmentally safe household cleaning products and very few of these.
The only chemicals that she has been exposed to recently was anti-flea treatment - Comfortis - active constituent 560 mg Spinosad (in January and again just recently) and a worming tablet (Exelpet) which contains pyrantel embonate 143 mg, oxantel embonate 543 mg, and praziquantel 50 mg which was given at the same time as the latest flea tablet about 4-5 days before the most recent seizures.
Initially our vet took blood to eliminate obvious poisons - I don't know exactly what tests were done but they showed nothing. She was given Valium for 24 hours then we were advised to wait and see whether she had any more, in which case the vet thought it was idiopathic epilepsy and she would have to go on drugs for the rest of her life.
Having read about the drugs and their side-effects I am keen to try other alternatives.
My main question is: do you think it likely that either or both the flea and worm treatments are to blame or is it more likely to be congenital and what treatment for the seizures would you recommend?
The other dog in the pictures (they are inseparable) is another small Kelpie cross, around 13 months old and unrelated.
Want to ask our veterinarians a question but haven't subscribed to My Online Vet? Click here to learn how or click here to go back to the Ask a Vet Online Library of questions.
Want monthly "News You Can Use" and important Organic Pet Digest new content updates? Click here to sign up for our FREE Dog Care Monthly newsletter.
Do you believe in holistic pet care? If so, please tell your friends about us with a Facebook like, Google +1 or via Twitter, Pinterest, email or good old fashioned word of mouth. Thank you for supporting our efforts!
For additional research, search for your topic...
Also see...
Disclaimers: The information contained in this web site is provided for general informational purposes only. It is not intended as nor should be relied upon as medical advice. Rather, it is designed to support, not replace, the relationship that exists between a pet owner/site visitor and his/her local veterinarian(s). Before you use any of the information provided in the site, you should seek the advice of a qualified professional.
In the spirit of full disclosure, we wanted to let you know that we proudly support this website through advertising and affiliate marketing. In other words, when you click on a link that takes you outside of this website, we often earn a small commission. These small commissions allow us to keep the site up and running and to continue offering it completely free of charge to you. Rest assured that all content, recommendations and advice are created before, and are independent of, any sponsorship or affiliate relationship.
Click here
for more info.