Dog "diaper area" oozing, angry rash on female
by Traumatized expat
(Switzerland )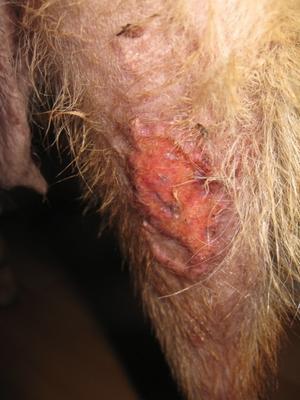 Our dog was an emaciated, balding, odorous wreck when found. She has some sort of itchy skin allergy with flaky skin after every bath.


2.5 mg 2x/day of prednisolone has kept the itch well-controlled and given her sanity. I am aware that this is taking a toll on other aspects (hungry, potbelly even when slimmed down on rice/dried fish, swaying back, maybe cataracts), but one vet said that if I didn't do this, she'd be so itchy she'd have to be put down, and I've seen evidence of that.
My Belgian Malinois mix was found on the streets in Africa. We just arrived in Switzerland about 5 weeks ago. She is roughly 7 years old, give or take a year, and very sweet-tempered and attached to me.
In Africa she'd stink if we didn't bathe her, but since she arrived in the Swiss winter her skin has been great without a bath in all that time.
Until now. I left her with our host family for a month, and when I got back, she seemed fine, though fat, and then I left the same day for another 5 days. When I got back (thankfully to stay put this time), we discovered a horrible, angry oozing and infected rash in two patches down her back inside thighs. On closer examination I saw that it was under the base of her tail and in the crevices under each side of her vulva, and even in the hair of the upper thighs on either side of her bum.
I'm totally baffled. She's licking her wounds, but not itching. The big change has been from the rice/dried fish to dry dog food, in this case the standard Science Diet Adult kibble, but she was getting only 75 grams 2x a day and still hungry and fat. She always gets it soaked in a bowl of water because she doesn't like drinking water otherwise.
She's gassy with milk or cooked zucchini. We just changed her food today to Purina sensitive skin rice/salmon-based food, and trying to give her 100g of that 2x day.
The Swiss vet was appalled at the pred use and told me to stop it completely, cold turkey, so they can see what is going on with her skin. I can't bring myself to do that, even with the antibiotic he gave for her skin infection.
So I've dropped her dose down from 2.5 mg 2x day to half that and I'll drop it completely if the antibiotic is making up for it as he claims it will. Who knows, maybe she's
not allergic to Switzerland the way she was to Africa, but this genital area rash is horrific.
The only other explanations we came up with is the cat food she's been stealing for the last month, and emotional upset when I left her and then came home for a single day and took off again. She's always been miserable but stable when I've left her with housemates in Africa, but this time she was with strangers in a strange place... though she has bonded well with them and the family is great with her.
She also seems to have normal energy and loves her long, energetic walks with me.
The vet didn't know what the rash (which is really open, raw skin, oozing blood in some newer places) was. They took slides for analysis. A more dermatological specialist vet will analyze it and see "Gracie" (my dog) in 10 days.
My questions are:
a) what IS THIS
b) is it because of the kibble?
c) should Gracie eat kibble or should I bite the bullet and go back to rice and fish or something else?
Thanks
P.S. A couple more thoughts -
I think her "fat" could be at least half bloating from the food change. She's definitely passing smelly gas (always a bad sign with her) and burping a little more (but she's always followed up her morning meal with a happy burp in our faces). And going from 18 kgs to 21 in 5 weeks is pretty crazy, but it seems to all be around her rib cage and pot belly, not on her hips or chest like when she was genuinely overweight in the past.
She's not drinking more - she did that a year or more ago and I lowered her prednisolone, fearing Cushings. Now she won't drink unless there's food or milk in it, or from a puddle on a walk. She very well could have Giardia or something like that causing the bloat, but her poops are normal.
One side of her nose is a bit runny (clear) - could be the cold outside but it's running even when inside.
The antibiotic we got yesterday is Rilexine 600 mg 1 cap 2x day.
Attached are some photos. I had some handy that I was going to send to one of her buddies of him with her, she is a cuddler with all of us but loves him and me the most. We're only using that orange-red topical disinfectant that they use around surgery areas, just dabbing it on a couple times a day.
Thank you!
Want to ask our veterinarians a question but haven't subscribed to My Online Vet? Click here to learn how or click here to go back to the Ask a Vet Online Library of questions.
Want monthly "News You Can Use" and important Organic Pet Digest new content updates? Click here to sign up for our FREE Dog Care Monthly newsletter.
Do you believe in holistic pet care? If so, please tell your friends about us with a Facebook like, Google +1 or via Twitter, Pinterest, email or good old fashioned word of mouth. Thank you for supporting our efforts!
For additional research, search for your topic...
Also see...
Disclaimers: The information contained in this web site is provided for general informational purposes only. It is not intended as nor should be relied upon as medical advice. Rather, it is designed to support, not replace, the relationship that exists between a pet owner/site visitor and his/her local veterinarian(s). Before you use any of the information provided in the site, you should seek the advice of a qualified professional.
In the spirit of full disclosure, we wanted to let you know that we proudly support this website through advertising and affiliate marketing. In other words, when you click on a link that takes you outside of this website, we often earn a small commission. These small commissions allow us to keep the site up and running and to continue offering it completely free of charge to you. Rest assured that all content, recommendations and advice are created before, and are independent of, any sponsorship or affiliate relationship.
Click here
for more info.