Dog Diagnosed with Lyme's Disease
by Emee
(Loma Linda, CA)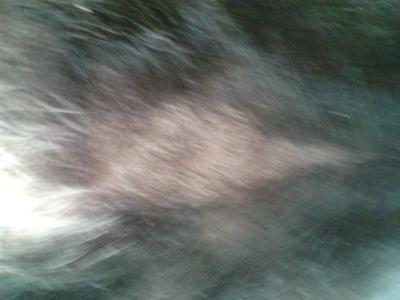 Our story is pretty complicated & ugly-I'll try to be thorough. We moved into a new place just over 30 days ago. The place is a trailer home in one of those mobile villages & seemed to be adequate for now (financially perfect). The yard was overgrown & not quite accessible, but the management had promised to have a crew come in before we moved. Of course they didn't & that's where our nightmare begins.

My 2 two dogs, Coleman & Little (16yr old Shepard) are my whole life & so it was not an option for me to wait for them to come clean it up. I dug in right away, ripping out molded foliage, rotted wood, animal corpses & whatever else. 20+ stray cats, skunks & possums are under the house all of the time. Neighbors soon told me the place had been vacant for 2 yrs prior and was tick infested. They also knew stray animals were being buried there. It smells of urine coming through the vents.

Coleman had suffered from some skin problems the year before as well as seizures (occasional). T6- cholesterol came back o.k. but vet said could be borderline hypothyroidism. That was never diagnosed & I opted not to vaccinate after that. Same with Little (just skin allergies).

We immediately called local agencies, management & animal services, but never got any help. Within 2 weeks, Little started getting stiffer & weaker. Then within days couldn't walk without my supporting her with a towel under her belly. She became incontinent, panting constantly. I knew I was only making her more miserable cleaning her accidents like a bed-bound patient. I lost her days later. This would be the most pain I have ever felt. Ever.

Obviously, I'm terrified of what I've subjected my dogs to environmentally. But it's too late. Coleman broke
out in a rash under his belly & inside back legs & base of tail. There were a few pimple looking things, along with scabs & very dry skin. He & I both are very depressed & stressed out. I was a pretty bad mess the day I lost Little & he had the worst seizure yet that same day.
I got him in to a vet-said it was bacterial & we left w/ Ceph 500mg. I couldn't afford their complete blood panel. He wouldn't go for letting me work it off. But I knew something was wrong.
His skin has improved but he's lethargic. He still eats & drinks, but without the overblown enthusiasm he normally has. I also pulled what I thought was a tick off him & rushed him in to the humane society clinic yesterday.
They rushed our visit, not listening to most of what I said. Vet never checked a black bump under his chin or fatty lumps on his belly & side. They did do a snap6 (?) blood test(?) 10 mins later informed me he was positive for Lyme. 350mg Doxy a day & bring him back in a few weeks. Also said to finish Ceph from other vet.
I don't like bogging him down w/ meds but I'm terrified. Shouldn't he be considered high risk for kidney/liver complications? He had another seizure last night & his stool has some black flecks in it today.
Hopefully I'm just paranoid, but his breathing seems irregular & rattley when he sleeps. His nose will run a little clear fluid then dry up. He's always snored a bit. He also has been taking Omega 3, glucosamin & oatmeal baths for his skin.
I'm so afraid to loose him too. Is this normal for Lyme? Assuming he really has Lyme. I hope I've covered what's needed.
Want to ask our veterinarians a question but haven't subscribed to My Online Vet? Click here to learn how or click here to go back to the Ask a Vet Online Library of questions.
Want monthly "News You Can Use" and important Organic Pet Digest new content updates? Click here to sign up for our FREE Dog Care Monthly newsletter.
Do you believe in holistic pet care? If so, please tell your friends about us with a Facebook like, Google +1 or via Twitter, Pinterest, email or good old fashioned word of mouth. Thank you for supporting our efforts!
For additional research, search for your topic...
Also see...
Disclaimers: The information contained in this web site is provided for general informational purposes only. It is not intended as nor should be relied upon as medical advice. Rather, it is designed to support, not replace, the relationship that exists between a pet owner/site visitor and his/her local veterinarian(s). Before you use any of the information provided in the site, you should seek the advice of a qualified professional.
In the spirit of full disclosure, we wanted to let you know that we proudly support this website through advertising and affiliate marketing. In other words, when you click on a link that takes you outside of this website, we often earn a small commission. These small commissions allow us to keep the site up and running and to continue offering it completely free of charge to you. Rest assured that all content, recommendations and advice are created before, and are independent of, any sponsorship or affiliate relationship.
Click here
for more info.