Dog Biting Skin Resulting in Thinned Hair. Her Puppy Has Fungal Infection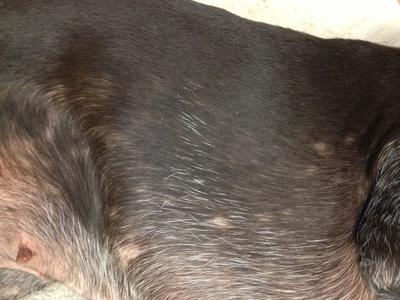 the 4 1/2 year old mom
I have 2 wirehair pointers. The mom is 4 1/2 years old and has had skin problems since she was about 18 months old. She is biting herself and ends up with little patches of hair that is thinned down on her side, legs, behind her ears.


We have had her in to the vet a number of times to try to figure what is going on. The vet has treated her with cephalexin in the past and that has worked but it comes back. The vet also thought is was allergy's and we gave her the allergy serum but that did not seem to help either.
She has been treated with a flea and tick K-9 advantix. We also have tried treating it with some betadine and applying lotrimin and bathing her with no improvement. She has been on cephalexin quite a bit and I am trying to find something else that I can do for her.
Right now her food is Purina pro plan and we do mix their dry food with wet food daily. We have changed dog food a couple of times in the past with no results.
Her pup is 18 months and I believe has a fungal infection. She came in contact with a feral cat and started to loose hair the same way as her mom.
I started treating her with betadine and lotrimin and giving her a bath with medicated shampoo. I took her to the vet about it and the test came back that she has a fungal infection. The vet told me to keep doing what I have been doing and if it does not get better bring her in for treatment.
This is the eighth week with no improvement. She is on the same dog food as her mother. I fear that this is the same thing that her mom has and they are going to treat it the same way. I do not want to start taking her in all the time and am hoping that there is something that can be done.
Want to ask our veterinarians a question but haven't subscribed to My Online Vet? Click here to learn how or click here to go back to the Ask a Vet Online Library of questions.
Want monthly "News You Can Use" and important Organic Pet Digest new content updates? Click here to sign up for our FREE Dog Care Monthly newsletter.
Do you believe in holistic pet care? If so, please tell your friends about us with a Facebook like, Google +1 or via Twitter, Pinterest, email or good old fashioned word of mouth. Thank you for supporting our efforts!
For additional research, search for your topic...
Also see...
Disclaimers: The information contained in this web site is provided for general informational purposes only. It is not intended as nor should be relied upon as medical advice. Rather, it is designed to support, not replace, the relationship that exists between a pet owner/site visitor and his/her local veterinarian(s). Before you use any of the information provided in the site, you should seek the advice of a qualified professional.
In the spirit of full disclosure, we wanted to let you know that we proudly support this website through advertising and affiliate marketing. In other words, when you click on a link that takes you outside of this website, we often earn a small commission. These small commissions allow us to keep the site up and running and to continue offering it completely free of charge to you. Rest assured that all content, recommendations and advice are created before, and are independent of, any sponsorship or affiliate relationship.
Click here
for more info.