Dog Belly Rash Spread to Back
by Nyna
(New York City!!!)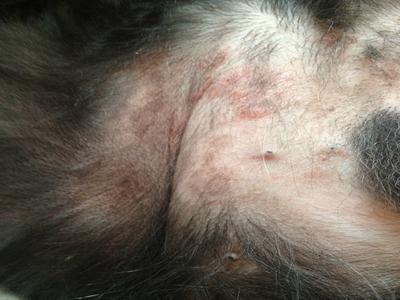 belly area. Are redder than in these pics
Our dog has what we thought in the beginning was heat rash, which was about a month ago. His fur is dark brown and black. The "rash" was mainly on his belly where there is mostly no fur.


I noticed red patches, so I Googled heat rash in dogs and found that putting aloe vera on the area would help, but then came a couple tiny puss filled bumps. And just now I was giving him a big scratching session, where I scratch his back, because he likes it and I felt a bunch of flat bumps and took a look and now the redness and flaky skin bumps are on the back end of his back in an area approx. 2 inches in diameter.
Then I noticed that my scratching him left a bit a of hair loss. Not sure about this part being related, because he's a huge shedder! He has plenty of energy, has an appetite, drinks plenty of water, and sleeps well.
He has been licking the area on his belly and I think it might be contributing to it's worsening. He doesn't lick it a lot, and doesn't seem to be bothered by it otherwise. I just don't want it to spread, get worse and of course...we want our cute furry boy to be well : )
One more thing...When I was giving him scratches, I irritated the area and it kinda smells now. After seeing this area, I felt around, but didn't seem to find anywhere else, but
also his fur is so dark that I think just aside from checking every inch of him, I don't think I would be able to know if there are other areas.
Like I said, I just happened to come across the area on his back because I was scratching him. I looked up on a vet's site and it had a pic of what looks the same as the pics I have sent you of my dogs belly. They called it:
Canine Bacterial Skin Infection and Dog Skin Pimples
Pyoderma (skin pustules): caused by a bacterial skin infection.
Brighten is a 3 year old rescue and is mostly Australian Shepard and likely a bit of Burmese Mountain Dog from his size and other markings. He weighs about 80-90 lbs. Last Wii Fit weigh-in was 84 lbs, but that was the last time I could lift him! He's a BIG boy! Hee!
I am looking for an inexpensive solution as in this moment, we are notable to afford much, but he is such a dear family member and love him so! His name says it all and was the name that was given to him at the ASPCA...He truly Brightens up your day! He loves all people and all dogs! Really!
Thank you for your time!
I Hope All Is Well In Your World : )
Nyna
NOW! If you could help me with the fact that Brighten is a ball stealer when in the park with other dogs..well then!...THAT would be a miracle : ) Bwahahahaha!
Want to ask our veterinarians a question but haven't subscribed to My Online Vet? Click here to learn how or click here to go back to the Ask a Vet Online Library of questions.
Want monthly "News You Can Use" and important Organic Pet Digest new content updates? Click here to sign up for our FREE Dog Care Monthly newsletter.
Do you believe in holistic pet care? If so, please tell your friends about us with a Facebook like, Google +1 or via Twitter, Pinterest, email or good old fashioned word of mouth. Thank you for supporting our efforts!
For additional research, search for your topic...
Also see...
Disclaimers: The information contained in this web site is provided for general informational purposes only. It is not intended as nor should be relied upon as medical advice. Rather, it is designed to support, not replace, the relationship that exists between a pet owner/site visitor and his/her local veterinarian(s). Before you use any of the information provided in the site, you should seek the advice of a qualified professional.
In the spirit of full disclosure, we wanted to let you know that we proudly support this website through advertising and affiliate marketing. In other words, when you click on a link that takes you outside of this website, we often earn a small commission. These small commissions allow us to keep the site up and running and to continue offering it completely free of charge to you. Rest assured that all content, recommendations and advice are created before, and are independent of, any sponsorship or affiliate relationship.
Click here
for more info.