Dog Bed Ramps: 3 Recommendations
Dog bed ramps can make aging easier and more enjoyable for our dogs, as they often run into many of the aging symptoms that humans do.
We'll dive into reviews of the dog ramps for beds that we recommend further down the page, including: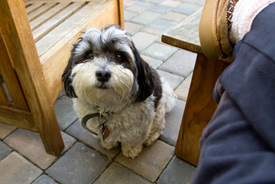 But are they REALLY necessary? Absolutely.
Things like arthritis, joint and muscle pain and weakness can make climbing and jumping dangerous if not impossible. Weakened dogs and younger dogs that have undergone surgery are also much more likely to injure themselves trying to make jumps that their bodies aren't ready for.
Dog ramps are very simply structured to create a doable exit or entrance from many things, including the car or, assuming your dogs are as spoiled as ours, the bed and couch.
Let's take a look at some great options for you and your dog. We'll also throw in some options for the fashion conscious pooch!
The PetSTEP Pet Ramp
The PetSTEP Pet Ramp is a good product manufactured by a reputable company that stands by a money back guarantee.
PetSTEP Pet Ramp comes in two different sizes, providing options for car, home or on-the-go use such as a vet office visit. PetSTEP also offers a handy carrying case to make pet friendly travel much easier.
PetSTEP Multi-Purpose Ramp

Holds pets weighing up to 500 lbs
Weight: 22 lbs
Folded Dimensions: 36" x 17" x 5.75"
Unfolded Dimensions: 70" x 17" x 2.5
PetSTEP HalfSTEP Ramp

Weight: 14 lbs
Unfolded Dimensions: 39" x 17" x 3.5"
Both are constructed using a non-slip surface with rubber ridges ensuring safety even in wet conditions. PetSTEP's paw-friendly texture won't scratch your dog, car or bed.
The PetSTEP ramp has a price tag of about $130.00.
Click here to check 'em out.
Double Duty Pet Ramp
We like the Double Duty Pet Ramp for its combination of style and functionality. It easily converts from stairs to a ramp, and it folds for simple storage.
Other features include:
No assembly required
140 lb weight limit
Dimensions:

24.6"L x 14.5"W x 61.75"H
8.5" Depth
1.5" Thick

Weight: 13 lbs
It's also reasonably priced between $75 and $100.
DogRamp.com
DogRamp.com differentiates itself by offering a great selection of dog bed ramps and multi-purpose ramps at very reasonable prices. They even offer dog pool ramps for your little buddies who like to get their exercise in the water.
They have the following four regular ramps to choose from:
1 - Side Kick
2 - Double Telescoping 72"
3 - Triple Telescoping 72"
4 - Triple Telescoping 84"
Their dog ramps vary in price from $38.00 to $139.00 depending on size. They also provide a 30 day money back guarantee and a one year guarantee on the product itself.
Click here for their side-by-side ramps comparison.
Do you believe in holistic pet care? If so, please tell your friends about us with a Facebook like, Google +1 or via Twitter, Pinterest, email or good old fashioned word of mouth. Thank you for supporting our efforts!
New! Comments
Have your say about what you just read! Leave a comment in the box below.
For additional research, search for your topic...
Also see...
Disclaimers: The information contained in this web site is provided for general informational purposes only. It is not intended as nor should be relied upon as medical advice. Rather, it is designed to support, not replace, the relationship that exists between a pet owner/site visitor and his/her local veterinarian(s). Before you use any of the information provided in the site, you should seek the advice of a qualified professional.
In the spirit of full disclosure, we wanted to let you know that we proudly support this website through advertising and affiliate marketing. In other words, when you click on a link that takes you outside of this website, we often earn a small commission. These small commissions allow us to keep the site up and running and to continue offering it completely free of charge to you. Rest assured that all content, recommendations and advice are created before, and are independent of, any sponsorship or affiliate relationship.
Click here
for more info.