Dog Bald Spot After Rabies Vaccine
by Yvonne
(Oregon)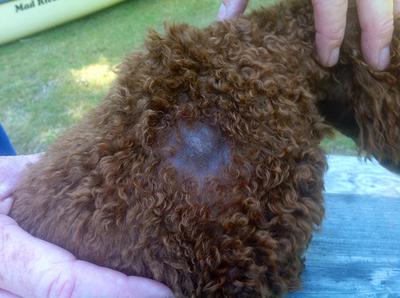 Dog bald spot on his upper right shoulder where the rabies vaccine was administered
My 9 month old toy poodle received a rabies vaccination 2 months ago and now has developed a bald spot the size of a half-dollar at the injection site. Feeling around the spot, it is slightly raised and hard, and the skin feels rough and is turning darker. I noticed the baldness a week ago when brushing him.


After conducting much on-line research and reading poodle forum information, I believe he has rabies vaccine-induced alopecia. It also may be ischemic dermatopathy, but I don't know the difference between those two, or if they are even the same thing. So far, the only place he has a bald spot is at the injection site.
My dog is fed a species appropriate diet of raw meat, organs, bones and a small amount of veggies/fruit, an occasional egg, raw goats milk, and green tripe.
He has only been minimally vaccinated (puppy shots only included parvovirus and distemper), and I tried to hold off as long as possible with his rabies shot (6 months old).
He is an extremely healthy, vibrant, energetic little dog and I do my best to make sure he stays that way.
I am VERY upset that he has had this reaction to the rabies vaccine, although I knew it was possible. I subscribe to Dogs Naturally Magazine and The Whole Dog Journal and devour that information and want to treat my dog holistically.
We are currently traveling by RV, so the only way to find a vet is to look in the yellow pages...yikes!
My question is.....what can I use to treat this? Will this develop into something more serious that I should look out for?
I do NOT want to use any steroid drugs, and would only do so as a last resort. Or, maybe I don't need to do anything and it will eventually resolve itself.
I sincerely hope his fur will grow back in this spot. I am currently rubbing coconut oil on it, and plan to get some fish oil supplements as soon as we get to a town that sells them.
Thank you so much for your help. I look forward to receiving your response.
Want to ask our veterinarians a question but haven't subscribed to My Online Vet? Click here to learn how or click here to go back to the Ask a Vet Online Library of questions.
Want monthly "News You Can Use" and important Organic Pet Digest new content updates? Click here to sign up for our FREE Dog Care Monthly newsletter.
Do you believe in holistic pet care? If so, please tell your friends about us with a Facebook like, Google +1 or via Twitter, Pinterest, email or good old fashioned word of mouth. Thank you for supporting our efforts!
For additional research, search for your topic...
Also see...
Disclaimers: The information contained in this web site is provided for general informational purposes only. It is not intended as nor should be relied upon as medical advice. Rather, it is designed to support, not replace, the relationship that exists between a pet owner/site visitor and his/her local veterinarian(s). Before you use any of the information provided in the site, you should seek the advice of a qualified professional.
In the spirit of full disclosure, we wanted to let you know that we proudly support this website through advertising and affiliate marketing. In other words, when you click on a link that takes you outside of this website, we often earn a small commission. These small commissions allow us to keep the site up and running and to continue offering it completely free of charge to you. Rest assured that all content, recommendations and advice are created before, and are independent of, any sponsorship or affiliate relationship.
Click here
for more info.