Choosing the Right Dog Air Bed
While the manufacturing and recyclability of a dog air bed is not necessarily a good thing for the environment, it does have several indisputable qualities.
The best ones we could sniff out were...
Air beds are right for some dog owners for several reasons: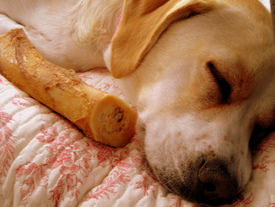 Less odor and build up of pesky dust mites and allergens
No place to harbor fleas or other types of pests
Easily deflatable
Washable
Super easy for pet friendly travel
Control of firmness and support
Durable PVC material makes clawing nearly impossible
Keeps dog cool and comfortable
Highly recommended for arthritic dogs who require more support
No soaking or run-off, which is great for dogs with incontinence
No need to replace fillers as with other dog beds
However, in addition to the environmental concerns, other negatives include…
Non-resistant to excessive chewing which causes air leaks
Inflation and deflation of bed may take small amount of time
Dog may be uncomfortable with the dog air bed sensation at first
If you do decide to purchase a dog air bed, be mindful about recycling it if and when you get rid of it. Earth911.com can help you find a recycling center in your area.
Coleman Comfort Smart Round Air Bed
The Coleman Comfort Smart Round Air Bed is a great dog air bed for the money. This bed is made by Coleman, a reputable camping supply company. As you might expect, the bed is great for camping or in-home use. As you can see in the image below, it has a lip for the dog's head or for curling up, and is covered in a soft fleece-like material.
Overall, this bed has good customer reviews and is a bargain buy with prices starting at $28.76 for the smaller bed and $54.99 for the larger bed. The pump is not included in the purchase price and can be purchased separately.
Following are the bed's features as described by the manufacturer…
Available in 26" x 34", 44" x 38", and 52" x 44"
The ThermoLock feature reduces heat loss through the zipper and keeps your pet warm
ZipPlow technology helps prevent zipper snags and ensures smooth zipper operation around corners
Double-Lock Valve features two sealing points, guaranteeing a leak-free valve
The FiberLock feature prevents insulation from shifting, increasing durability
The Comfort Cuff surrounds your pet's face with softness
Exclusive PVC construction provides better puncture resistance
Constructed of tough poly oxford and cozy fleece
Inflates in less than 60 seconds with QuickPump unit (sold separately)
The Comfort Smart Coil System contours to your pet, providing firm support
Washable, removable cover
Click here to purchase the Coleman Pet Comfortsmart Air Bed with Bolster.
SnoozAir Bed for Dogs
SnoozAir Bed for dogs is a patent pending dog bed made from quality materials and with all of your dogs comfort needs in mind. This dog air bed has a round design and several impressive features.
With the ability to hold up to 400 lbs, even the heaviest dogs shouldn't have a problem. The large size is also big enough for an 80 lb lab to comfortably curl up on. The bottom of the bed has a non-skid grip, so it's safe for smooth surfaces. It also comes with an air pump that allows the bed to be filled in 40 seconds.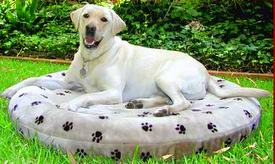 Additional features include:
Non-skid rubber feet
Machine washable and easily removed plush slip cover
Pillowed head rest on outer ring
Deluxe Boston Valve that quickly inflates & deflates
Electric air pump
The SnoozAir dog air bed starts at $99, and the company offers special deals for multiple purchases. You will receive a free electric air pump, bed slip cover (no zippers!) and repair kit with your purchase. Additional slip covers are also available for purchase.
The SnoozAir Bed for Dogs comes with a 90 day money back guarantee, as long as the product was not used by your dog. The dog air bed can also be returned to the seller as long as return guidelines are met. You can read more about their policy on their website.
Do you believe in holistic pet care? If so, please tell your friends about us with a Facebook like, Google +1 or via Twitter, Pinterest, email or good old fashioned word of mouth. Thank you for supporting our efforts!
New! Comments
Have your say about what you just read! Leave a comment in the box below.
For additional research, search for your topic...
Also see...
Disclaimers: The information contained in this web site is provided for general informational purposes only. It is not intended as nor should be relied upon as medical advice. Rather, it is designed to support, not replace, the relationship that exists between a pet owner/site visitor and his/her local veterinarian(s). Before you use any of the information provided in the site, you should seek the advice of a qualified professional.
In the spirit of full disclosure, we wanted to let you know that we proudly support this website through advertising and affiliate marketing. In other words, when you click on a link that takes you outside of this website, we often earn a small commission. These small commissions allow us to keep the site up and running and to continue offering it completely free of charge to you. Rest assured that all content, recommendations and advice are created before, and are independent of, any sponsorship or affiliate relationship.
Click here
for more info.