Diet, supplement questions and health issues incl. allergies & hard skin knots
by Tim L.
(Kannapolis, North Carolina, Cabarrus county)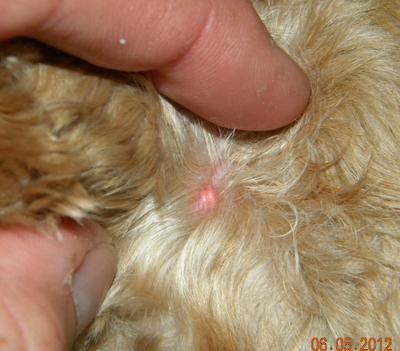 Hard knot on Jasmines neck
Back in July of 2010 I rescued a 4 year old and severely abused female Cocker Spaniel who I named Lady Jasmine. She was being beaten (including when she used the bathroom in her crate which she was locked in all day), not taken care of at all, only let out once a day if she was lucky, wasn't fed every day and I believe the way they didn't feed her REALLY messed up her metabolism.


She was 36 pounds when I got her and I thought that was big for a Cocker Spaniel but she was a bigger type of cocker spaniel with huge paws. She is currently 54 pounds.
She had severe ear infections, anal glands that hadn't been expressed in years, was eaten up with fleas, her hair had never been cut and she also had intestinal worms. Over the last 2 years and almost 3 months I have had an IMPOSSIBLE TIME TRYING to keep her weight under control. I have tried MANY DIFFERENT dog foods, Science Diet being one of them which I didn't want to but I was desperate, but I have also tried many ALL NATURAL Dog foods and I am currently giving her Blue Buffalo.
I have had to adjust her diet so many times because if I gave her too much she put on weight very fast. Now she is getting 1/4 cup of Blue Buffalo 3 times a day along with 1/4 Turkey Breast which is low in fat and sodium mixed with cooked baby carrots, both together totals a 1/4 cup so her diet ALL DAY TOTALS 1 1/2 Cups of food; OTHING CLOSE TO WHAT SHE SHOULD BE GETTING even for a dog of 36 pounds!
She gets hardly any people food, maybe a small bite here and there but I FEEL BAD because I know she is hungry. She also gets Chicken Chews and Duck Chews as treats for going out and using the bathroom and coming in but they are also broken into small pieces.
I walk her 3 times a day or as much as I can depending on how hot it is and when it's really hot she doesn't want to walk ( I can tell because she pants heavily). It has now cooled down where I live in Kannapolis, North Carolina just today and I want to start taking her walking more, but she has started acting like she doesn't feel well and doesn't want to walk far if at all and I AM VERY WORRIED ABOUT HER.
I am taking her to see her regular vet on Wednesday of this week, sooner if I can get her in. Her last blood test and urine test was PERFECT and the vet said he has never seen a 6 year old dog with a perfect blood panel. He said her protein in her urine was 200 (I believe) but it wasn't much at all he said but wanted to retest, all of this was done about a month to a month and a half ago.
I have been giving her Vemma, which is a Liquid Vitamin and Mineral, ever since I have had her, maybe about a 1/4 of an ounce... VERY LITTLE but I am thinking this has helped with her blood. But again, like I said before within the last 3 to 4 days she just hasn't wanted to walk much, she is sleeping a lot which she usually does and she just seems to feel really bad.
I am TIRED of the conventional medicine approach of, "LETS WAIT UNTIL THE DOG IS SICK AND TREAT IT." I want to strengthen the immune system to FIGHT OFF AND PREVENT any disease from happening in the first place. I am ALSO LOOKING for an ALL NATURAL diet that will help her feel full, low in fat, that gives her the vitamins and minerals she needs to strengthen her immune system and will help her lose weight, because over the last 2+ years she has been steadily gaining weight, slowly but surely, NO MATTER HOW HARD I HAVE TRIED TO KEEP THIS FROM HAPPENING and I am SO AGGRAVATED! People think I am feeding her a TON OF FOOD which is the farthest from the truth.
I just want to take care of my Jasmine to the best of my ability and give her the longest, healthiest and happiest life possible. I know Knowledge is power but no matter how many vets I have taken her to see NO ONE CAN UNDERSTAND OR FIGURE OUT WHY SHE has such a hard time losing weight!
Her thyroid has been tested and retested, she was tested for cushings and didn't have it and everyone says she is in perfect health and they don't have a CLUE as to why she is gaining and not losing, again, EVEN THOUGH SHE IS ON A VERY LOW FAT DIET!
My theory is her metabolism was messed up and her body is stuck in the FAMINE MODE where it stores all the fat it can because she doesn't know when she will eat again even though she has been fed 3 small meals a day for the last 2+ years.
When I first got her and fed her she dove in on the food and ate it so fast because she didn't know when she would
be feed again and THAT BROKE MY HEART and made me SO MAD AT THE PEOPLE I GOT HER FROM! So, now you know some of her background, here are my questions:
1. What ALL NATURAL DIET can I fix/make her that will help her lose weight, make her feel full, give her all the vitamins and mineral's she needs and give her energy to make her feel like wanting to walk, play and exercise more?
2. What can I do to strengthen her immune system? I have read where Organic Flaxseed oil, Cottage Cheese mixed with Honey and crushed Vegetable's was great for Energy and giving the body what it needs to strengthen the Immune system. IS THIS TRUE and will any of these hurt her?
I mixed a little up today and gave it to her because I am worried about her until I see her Doctor but I don't want to go to the E.R. Vet unless SHE ABSOLUTELY HAS TOO and I don't think she needs to or I would. I have read where this mixture can cause pancreatic in Dogs, IS THIS TRUE?
3. Ever since I have had Jasmine she has had allergies to the point she will scratch her chin on both sides until she cries. She has deep, long crevasses on both sides of her chin that looks like it could have been a deep cut at one time or she might have been born with it, but the vet said she gets yeast from moisture which causes her to itch.
He gave me some pads to rub on it but it doesn't help. She also has recently started chewing/biting on the bottom of her paws and in between her pads is really itching her at times, this is new within the last month, but I don't know what to do for this.
Is there ANYTHING I can do to help her with her allergies or would that fall under boosting her immune system also. I have read where ALL NATURAL BEE HONEY is good for this, which is what I am putting in the mixture I made today.
4. I have ordered a book on Holistic Veterinarian for Dogs and also something called, "
4Life Transfer Factor PLUS Tri-Factor Formula by 4Life
." It said it was GREAT for boosting the Immune system and helping the body heal itself and fight off things.
5. Jasmine has also started getting hard knots on her, I found one on her neck, on her back and a few other places. I can't remember what the vet said they were but he said not to worry about it. I have taken a picture of the one on her neck and attached it above.
Thanks for your help in advance. I just want to take care of my girl and where I live there are NO HOLISTIC vets that I know of and I have searched and ask many people and I am yet to find one. Conventional vets want to do the pharmaceutical meds and her current vet has even mentioned a appetite suppressor for Jasmine, WHICH I AM TOTALLY AGAINST! She isn't eating that much and I don't want to starve her and I am afraid I am.
PLEASE HELP ME and let me know what I can do to help her live healthier, lighter and much longer. I have NO PROBLEM in fixing any HEALTHY, ALL NATURAL DIET you tell me to fix as long as it will help my girl.
Thank you for your help!
Tim
P.S. I mixed up 1/8 of a cup of Cottage Cheese with a half of a table spoon of Flaxseed oil, a tea spoon of Crushed pineapple and a tea spoon of honey and gave her maybe half of it around 12p.m. today, Sunday Oct. 7. This morning and for the last 3 days she hasn't had much energy at all and has acted like she hasn't been herself.
I took her for her morning walk and she didn't want to walk as far as she has been most mornings and the other morning she was very winded even though it was really cool when this route we take usually doesn't wind her much at all. Also when I walk her in the evenings she hasn't been going no farther then to my neighbor's house and back but this evening she walked 10 times farther than usual, ran with the neighbors dogs along the fence and when she was almost back home ran the last 100 feet, this was all after giving her this mixture today.
I don't know if this is the reason for her energy boost and helped her feel better or not, but she also wanted to play this evening. I didn't want to keep giving her this mixture until I had asked someone who KNOWS if its ok to give it to her or not. PLEASE LET ME KNOW because if its ok. I am going to start giving it to her twice a day. Again THANKS FOR ALL YOUR HELP IN ADVANCE.
P.P.S. I also attached a picture of me holding Jasmine a few months ago. She is maybe a pound bigger today then she was then, 54 pounds. I am sending you this picture so you have someone to see in relation to her size, I am 6'3", 230 pounds.
Want to ask our veterinarians a question but haven't subscribed to My Online Vet? Click here to learn how or click here to go back to the Ask a Vet Online Library of questions.
Want monthly "News You Can Use" and important Organic Pet Digest new content updates? Click here to sign up for our FREE Dog Care Monthly newsletter.
Do you believe in holistic pet care? If so, please tell your friends about us with a Facebook like, Google +1 or via Twitter, Pinterest, email or good old fashioned word of mouth. Thank you for supporting our efforts!
For additional research, search for your topic...
Also see...
Disclaimers: The information contained in this web site is provided for general informational purposes only. It is not intended as nor should be relied upon as medical advice. Rather, it is designed to support, not replace, the relationship that exists between a pet owner/site visitor and his/her local veterinarian(s). Before you use any of the information provided in the site, you should seek the advice of a qualified professional.
In the spirit of full disclosure, we wanted to let you know that we proudly support this website through advertising and affiliate marketing. In other words, when you click on a link that takes you outside of this website, we often earn a small commission. These small commissions allow us to keep the site up and running and to continue offering it completely free of charge to you. Rest assured that all content, recommendations and advice are created before, and are independent of, any sponsorship or affiliate relationship.
Click here
for more info.