Crusty Sores All Over Dog's Body & Red Spots on Belly
by Trish H.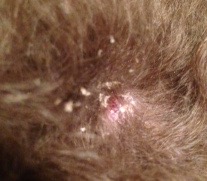 Crusty Sores
My dog started getting crusty sores all over her body and also red spots on her belly. She is 7 years old and has always been very healthy with no skin conditions or other health problems. The only issue she has from time to time is ear infections.


She has been on raw food all of her life up until recently when I switched her food to another healthy food that I prepare with all fresh food with an added dog nutrient packet for each fresh recipe called Just food for Dogs. They provide the recipe of all fresh ingredients and then I mix in the vitamin nutrients. The ingredients were all very similar to the raw food ingredients except for one recipe that I started feeding her more of which included wheat macaroni.
She had never had wheat or grain except for an occasional treat but most of her treats are also grain free. I am wondering if she has an allergy to grain? Seems to make sense but I am not sure because it is taking a while for the scabs and sores to clear up.
I took her off the turkey and macaroni recipe and started feeding her grain free food, Merrick buffalo and sweet potato grain free recipe. I also started adding a tsp of Apple cider vinegar and some plain Greek yogurt with her morning meal.
The sores are still there after about a month. I gave her a dose of Benadryl today but just wondering if she might need an antibiotic or something else to help flush her system out and get her back to normal.
She is itchy and scratchy but seems to be itching less after I gave her the first dose.
Also, I am wondering if she should go back on the raw food? The brand I fed her was Primal, beef or lamb patties. The reason I switched was she seemed tired of the food and didn't want to eat it.
But if it means she will have healthy skin again then I will definitely try to get her to eat it again.
Want to ask our veterinarians a question but haven't subscribed to My Online Vet? Click here to learn how or click here to go back to the Ask a Vet Online Library of questions.
Want monthly "News You Can Use" and important Organic Pet Digest new content updates? Click here to sign up for our FREE Dog Care Monthly newsletter.
Do you believe in holistic pet care? If so, please tell your friends about us with a Facebook like, Google +1 or via Twitter, Pinterest, email or good old fashioned word of mouth. Thank you for supporting our efforts!
For additional research, search for your topic...
Also see...
Disclaimers: The information contained in this web site is provided for general informational purposes only. It is not intended as nor should be relied upon as medical advice. Rather, it is designed to support, not replace, the relationship that exists between a pet owner/site visitor and his/her local veterinarian(s). Before you use any of the information provided in the site, you should seek the advice of a qualified professional.
In the spirit of full disclosure, we wanted to let you know that we proudly support this website through advertising and affiliate marketing. In other words, when you click on a link that takes you outside of this website, we often earn a small commission. These small commissions allow us to keep the site up and running and to continue offering it completely free of charge to you. Rest assured that all content, recommendations and advice are created before, and are independent of, any sponsorship or affiliate relationship.
Click here
for more info.