Finding the Right Corner Dog Bed
There are many cases when a specialized corner dog bed is the perfect addition to the home. In our case, living in an older home leaves us with smaller rooms and a definite lack of extra space, which makes finding a spot for a large rectangular dog bed quite tricky!
This is where the corner dog bed comes in handy...
It doesn't take up unnecessary space and being nestled between the two walls and away from busy traffic areas creates a den-like feel for your dog.
We recommend these two...

Orvis Corner Dog Bed
The Orvis corner dog bed is made from polyester and micro-suede materials and is not available in an organic option. But if your dog chews on this bed it will be entirely safe.
This is a sturdy bed made from foam bolsters and a padded base to provide plenty of support and security.
The bed's cover is made from a micro-suede material and is easily removed and machine washable. The pillow is stuffed with spun polyester. Orvis claims that the tufted pillow insert will retain its loft through heavy use.
Orvis manufactures high quality dog beds which come with a 100% satisfaction guarantee.
The Orvis dog bed's product qualities include: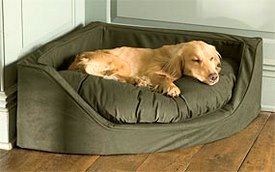 Micro-suede cover with a spun polyester fill
Foam bolster for head support
Sturdy design with a padded base
Money back guarantee
Available in four sizes:

Medium- 25" x 25" – Dogs up to 40 lbs
Large- 29" x 29" – Dogs up to 55 lbs
X-Large- 33" x 33" – Dogs up to 70 lbs
XX-Large- 37" x 37"- Dogs up to 100 lbs

Available in two colors- café and sage
Taylor Tips!

I really enjoy sleeping in a space that I can call my own...that's why I especially love my corner dog bed!
Personalized Corner Dog Bed
This bed is made from polyester and micro-suede materials and is also not available in an organic option. As with the previous option, if your dog chews on this bed it will be entirely safe.
This Personalized Dog Bed is a stylish and cozy retreat for your dog. Its triangular design slides directly into any corner of your house, providing your dog with its own personal space while avoiding taking over yours!
This is a great looking bed with a micro-suede cover and over stuffed sleeping pillow with adorable tufted detailing.
It also comes with the option to personalize it with your dog's name written in a stylish font on the side panel. But keep in mind, personalized beds are non-returnable.
A few more things to know about this corner dog bed are...
It's machine washable
Comes with a one year guarantee
It only comes in one size- 29" x 29"
It's available in two colors- chocolate brown and red
The price tag is $129.00
This is a very attractive bed that also appears quite cozy, but might not be ideal for a very small dog or a very large dog. The fact that it's available in only one size does limit its potential for diverse buyers, but we selected it because of the personalized name option and the stylish yet durable design. So, measure out the dimensions to check and see if it would be a good fit for your dog.
Click here to purchase the Personalized Corner Dog Bed.
Do you believe in holistic pet care? If so, please tell your friends about us with a Facebook like, Google +1 or via Twitter, Pinterest, email or good old fashioned word of mouth. Thank you for supporting our efforts!
New! Comments
Have your say about what you just read! Leave a comment in the box below.
For additional research, search for your topic...
Also see...
Disclaimers: The information contained in this web site is provided for general informational purposes only. It is not intended as nor should be relied upon as medical advice. Rather, it is designed to support, not replace, the relationship that exists between a pet owner/site visitor and his/her local veterinarian(s). Before you use any of the information provided in the site, you should seek the advice of a qualified professional.
In the spirit of full disclosure, we wanted to let you know that we proudly support this website through advertising and affiliate marketing. In other words, when you click on a link that takes you outside of this website, we often earn a small commission. These small commissions allow us to keep the site up and running and to continue offering it completely free of charge to you. Rest assured that all content, recommendations and advice are created before, and are independent of, any sponsorship or affiliate relationship.
Click here
for more info.