Constant Itching of our 4 dogs for months!
by Olga
(Costa Rica)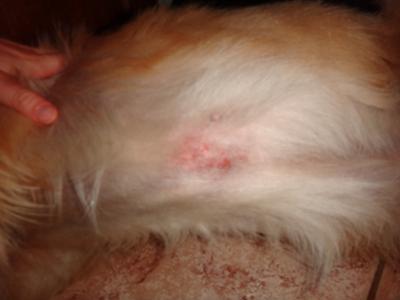 underbelly of Golden
In August of 2011, we went on a month long trip to Europe and left our puppies in the care of a close friend. When we returned, all 4 dogs were scratching like mad.


Nothing had changed about their environment during our trip - they stayed in the same house, were fed the same diet, and taken for walks in the same park.
In September 2011, we moved to a new house, and thought maybe they would stop if it was an allergy to something in that house. Since then - 6 months now - we have not been able to find the problem. After hundreds in vet bills, scrapes, tests, treatments, nothing seems to work.
Here's more about each dog:
- a year and a half old Golden Retriever male "Aiko"
- a 3 year old black Labrador male "Kasino"
- an 11 year old black Labrador male "Rino"
- a 10 and a half year old black Labrador male "Dino"
All unrelated, except Dino is a half-brother of Rino.
All 4 dogs scratch the belly, elbows, armpits, and ears. All except Dino have lost at least 10% of their body weight. They all fiercely nibble at their front and back paws, and all the Labs have developed bald spots on their butts from gnawing.
They often wake at night to scratch, and when they start they will scratch for minutes at a time. All the Labs have also lost quite a bit of hair, mostly on the belly, inner thighs, and butt. The oldest has a bald spot on his tail and Kasino has bald spots on his ears and a couple on his face. They have sores on their belly and inner thighs that often scab and bleed. They have often have severe dandruff that you can see flaking on their backs.
Over the course of the
past 6 months, we have taken all at various times to several vets. All scrapes came up negative for bacteria, worms, mange. They do not have fleas or tics. One scrape in November showed positive for fungus. We treated them all with Unifungin for 10 days. At the end of the 10 day period, the fungus was gone but the scratching never let up.
They are all on ProPlan Lamb and Rice diet, and have all eaten the same food for their entire life. They have never had any skin problems except Rino (the oldest) who often had dry skin and was easily irritated. Rino is also prone to ear infections and has arthritis.
In February 2012, a vet gave them all cortisol shots (2 shots over the course of 1 month - one every 14 days). This is the only thing that has stopped the itching, and got rid of the sores, but now that 18 days have passed since their last shot they are scratching wildly again and the sores are coming back. We don't want to continue them with steroid injections for fear of side effects, and the fact that Aiko has a heart murmur (and enlarged heart).
We give them fish oil capsules daily. Rino gets 1 Osteo-3 supplement for his arthritis. We have been bathing them once a week with antibacterial antiseptic shampoo, and for the past month have switched to Lupol, which is iodine based, leaving it on for 5 minutes before rinsing.
We have changed our floor cleaning products, changed/removed their dog beds, tried taking them out of their current environment (going to the beach for 1 week and taking them in the ocean), with no results. They all get walked twice daily and like to eat grass. We have a pool, but they drink from their bowls as far as we have seen.
Want to ask our veterinarians a question but haven't subscribed to My Online Vet? Click here to learn how or click here to go back to the Ask a Vet Online Library of questions.
Want monthly "News You Can Use" and important Organic Pet Digest new content updates? Click here to sign up for our FREE Dog Care Monthly newsletter.
Do you believe in holistic pet care? If so, please tell your friends about us with a Facebook like, Google +1 or via Twitter, Pinterest, email or good old fashioned word of mouth. Thank you for supporting our efforts!
For additional research, search for your topic...
Also see...
Disclaimers: The information contained in this web site is provided for general informational purposes only. It is not intended as nor should be relied upon as medical advice. Rather, it is designed to support, not replace, the relationship that exists between a pet owner/site visitor and his/her local veterinarian(s). Before you use any of the information provided in the site, you should seek the advice of a qualified professional.
In the spirit of full disclosure, we wanted to let you know that we proudly support this website through advertising and affiliate marketing. In other words, when you click on a link that takes you outside of this website, we often earn a small commission. These small commissions allow us to keep the site up and running and to continue offering it completely free of charge to you. Rest assured that all content, recommendations and advice are created before, and are independent of, any sponsorship or affiliate relationship.
Click here
for more info.