Cloudy, Discolored, Swollen Dog Eye with Dilated Pupil
by S. Warner
(Denver, CO)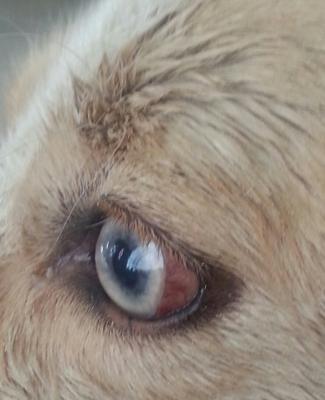 Left Eye - Photo 1
Last night, Lucky (four year old female mix husky and possibly aussie) was holding her left eye closed and was in obvious pain, whining and rubbing her eye against my palm as well as pawing at it with frustration. Inspection showed it to be cloudy and discolored, pupil dilated and the eye was swollen.


Due to the very late hour, I didn't take her to the vet. I made a poultice with bentonite clay and purified water then covered her eyes with the poultice on wet cheesecloth (the Unbleached, grade 50). Within minutes she stopped whining and pawing at her eye; she went to sleep. It's been my experience that the bentonite minimizes inflammation and perhaps the swelling is what caused her such pain?
She wore this over night.
This morning I removed the patch. the clay drew a lot of discharge from her eye, only slightly tinged yellow. Her eye is more blue than it was last night although still appears quite yellow/brown, as you can see from the pictures. The swelling has gone down, though not completely, and her pupil remains dilated. The cloudiness seems to have disappeared however; and, Lucky is acting like she's feeling much better.
This little girl is an inside dog and she's only outside for our morning and evening walks/playtime and using the bathroom. She has eaten Blue Buffalo Life Protection Formula chicken and brown rice since puppyhood, and I supplement her with home cooked food as well with eggs, ground egg shells, plain yogurt, raw carrots, chicken, rice, coconut oil, and such on occasion (not all at the same time or in the same day).
I feel awful for her. Any info you offer is going to be a MASSIVE help! I want to get her to the right vet, if needed. She is terrified of the vet and I'd hate to stress her out by taking her to several.
MANY MANY thanks!
S. Warner
P.S. I've attached a picture of her right eye as well for comparison; specifically color and pupil size
Want to ask our veterinarians a question but haven't subscribed to My Online Vet? Click here to learn how or click here to go back to the Ask a Vet Online Library of questions.
Want monthly "News You Can Use" and important Organic Pet Digest new content updates? Click here to sign up for our FREE Dog Care Monthly newsletter.
Do you believe in holistic pet care? If so, please tell your friends about us with a Facebook like, Google +1 or via Twitter, Pinterest, email or good old fashioned word of mouth. Thank you for supporting our efforts!
For additional research, search for your topic...
Also see...
Disclaimers: The information contained in this web site is provided for general informational purposes only. It is not intended as nor should be relied upon as medical advice. Rather, it is designed to support, not replace, the relationship that exists between a pet owner/site visitor and his/her local veterinarian(s). Before you use any of the information provided in the site, you should seek the advice of a qualified professional.
In the spirit of full disclosure, we wanted to let you know that we proudly support this website through advertising and affiliate marketing. In other words, when you click on a link that takes you outside of this website, we often earn a small commission. These small commissions allow us to keep the site up and running and to continue offering it completely free of charge to you. Rest assured that all content, recommendations and advice are created before, and are independent of, any sponsorship or affiliate relationship.
Click here
for more info.