Cloudiness in Dog Eye is Spreading
by Stacey
(Winchester, VA, USA)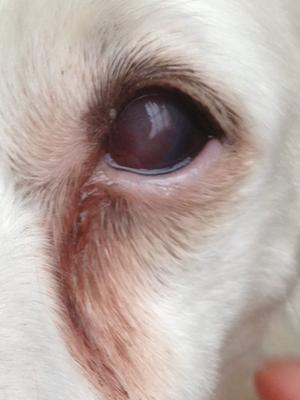 Current problem
In the past two weeks or so I have noticed a cloudiness in my dog's eye that started near the corner (tear duct area) and move inward spreading up and down. Its bluish, cloudy and sometimes looks reddish, even bloody.


I can't really tell if its caused a loss of vision...as she hasn't changed behavior or bump into things. She doesn't seem to be in pain or discomfort, but I'm concerned that its not getting better.
I don't have a holistic vet nearby and I'm afraid to return to the same vet as they don't provide too many real answers for healing by looking at the cause. However, I trust him completely for any emergency or surgical needs. I hoping that from the picture you can tell me if this is a situation that requires my vet.
Sorry, but as I was just adding pics I noticed a picture of her that I took after she got in a tussle with one of my neighbors dogs. I'm not sure if its related but it was about a month, month and a half ago and the injury is to the same eye!
Also, please note that she has brown drainage from that eye. Before changing her diet and giving supplements she had always had a bit of brown drainage. However that had mostly cleared up (and is still clear on her right side) but came back with the other symptoms.
History...
Spotty is an 11 year old jack Russell. She had parvo (according to a vet) as a puppy and somehow pulled through. She has had incontinence
issues since she was spayed. Its gotten worse as she has aged. It started out only happening rarely and gaining in frequency until it would happen most times she would lay down and relax and now even sometimes when she is just sitting and still awake.
She has been very active and somewhat obsessive about ball playing. She is intelligent and dominant over most other dogs. Always sweet with kids and people, even strangers.
About 8 months ago all of sudden she stopped putting weight on her back right leg and wouldn't stand even to eat or drink and seemed in pain.
There was an immediate and marked change in her personality and energy. She had diarrhea and seemed near death. The vet said it was acute arthritis. She did have a history of her knee cap slipping (or so the vet told us if i remember correctly).
The vet suggested (8 months ago) the medication Rimadyl. I tried it, knowing it wouldn't help heal her but gave it as temporary relief. I only gave her the one bottle prescribed and weaned her off of it slowly just in case.
Meanwhile I changed her to a grain free food, as I had just learned of the unhealthiness and inflammatory qualities of grains. I also started giving her Nordic naturals omega 3 pet, standard process canine musculoskelatal support, a tiny bit of white oak bark, and American Biosciences DGP.
I also had a chiropractor friend look her over and adjust her a few times. Meanwhile she has greatly improved..is back to her old charisma, runs, plays and dominates again.
Want to ask our veterinarians a question but haven't subscribed to My Online Vet? Click here to learn how or click here to go back to the Ask a Vet Online Library of questions.
Want monthly "News You Can Use" and important Organic Pet Digest new content updates? Click here to sign up for our FREE Dog Care Monthly newsletter.
Do you believe in holistic pet care? If so, please tell your friends about us with a Facebook like, Google +1 or via Twitter, Pinterest, email or good old fashioned word of mouth. Thank you for supporting our efforts!
For additional research, search for your topic...
Also see...
Disclaimers: The information contained in this web site is provided for general informational purposes only. It is not intended as nor should be relied upon as medical advice. Rather, it is designed to support, not replace, the relationship that exists between a pet owner/site visitor and his/her local veterinarian(s). Before you use any of the information provided in the site, you should seek the advice of a qualified professional.
In the spirit of full disclosure, we wanted to let you know that we proudly support this website through advertising and affiliate marketing. In other words, when you click on a link that takes you outside of this website, we often earn a small commission. These small commissions allow us to keep the site up and running and to continue offering it completely free of charge to you. Rest assured that all content, recommendations and advice are created before, and are independent of, any sponsorship or affiliate relationship.
Click here
for more info.