Closed, Watery Dog Eye
by Tasneem
(Cape Town, South Africa)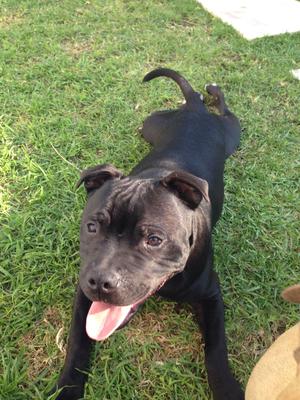 This is how his eye looks on the occasions when it is open, still slightly smaller and eyelid looks a little thick
About a month ago my 8 month old staffordshire bull terrier named Coal started to close his right eye slightly and it started watering every now and then.


About 2 months before that he had a small cornea ulcer on his left eye, took him to vet, used octin eye drops, atropine eye drops and artificial tear gel, within a week it was better, continued with tear gel now and then.
When I saw the right eye smaller then the left and slightly closed and watering I first started by using saline water drops twice a day and washing the eye out, after a week there was no change. Then I used the cornea ulcer drops that I still had from the time before, after 5 days no change, it just seemed to irritate his eye more.
Thought it might be allergy related because his skin does itch abit and he has a bald patch on his tail from way back and a bald patch with a sore/scab on the side of his face, so I gave him allergex tablets (researched it can be used and works for dogs) when he had the allergex his eye seemed to open a lot more and be less irritating, but sometime would be closed even with the tablet. Then decided to take him to the vet rather.
Did the dye test for corneal ulcer, dye didn't settle in one spot but a very little of the dye seemed to settle across the eye in fine lines after it was washed out.
She said it could be tiny surface scratches but not sure, would have to see eye specialist, which is very expensive. Then she said it could be caused by allergies so she gave an anti inflammatory injection and prednisone tablets which he is currently taking (seemed to work for the body itching, he is not trying to rub his body against things sine starting) and ISEE eye ointment which I used for 3 days now but think I should stop because it seems to irritate him even more.
This is so confusing because sometimes during the day his eye is open and sometimes closed and sometimes closed very tight. He seems to close it knowingly because his eye shudders a little ( if you try to
close your one eye shut very tight you can feel your eye kind of shudders a little, that's how his eye feels).
When his eye is open it doesn't look red or sore on the inside, his lids do look a little swollen though. And in pictures before this occurred it did not look like his lid of that eye curled into his eye, it looked normal the same as the left eye. But now when he closes his eye shut and I try to open it does look like his lids curl in, don't know if that's because he's closing it so tight. And he paws at his eye and tries to rub it on the grass or his pillow quite a lot, especially in the morning it seems.
So something is clearly annoying or itchy or sore.
He doesn't have any kind of discharge other than the usual eye boogers in the morning which I clean. I don't know what the cause could be. I wash their bedding once a week, I wash them every two weeks with natural shampoo.
They are on a BARF diet for about 5-6 months now ( raw beef, beef bones, chicken, sardines, duck necks and vegetables), we changed from eukanuba because they seemed to get skin allergies ( red itchy spots) from the grain in the pellets we guessed. We first changed to earthborn then to BARF. Their skin has cleared up since being on BARF. Except for Coals tail where there is still a bald patch but no sores and his cheek with a bald patch and small sore. I rub coconut oil on it once a day.
He has had all his inoculations and rabies shots and dewormed every 2-3 months. They live outdoors. They are only allowed on the grass at certain times when we are outside, maybe a grass allergy? But why did it only start now then? It is allergy season here in Cape Town now. I am at a loss, I don't know what to do for him anymore. What could be causing this? And is there anything I can do?
Hopefully I won't have to go and see the eye specialist and you can help me to make his eye better so he can be a carefree dog again.
Regards,
Tasneem
Want to ask our veterinarians a question but haven't subscribed to My Online Vet? Click here to learn how or click here to go back to the Ask a Vet Online Library of questions.
Want monthly "News You Can Use" and important Organic Pet Digest new content updates? Click here to sign up for our FREE Dog Care Monthly newsletter.
Do you believe in holistic pet care? If so, please tell your friends about us with a Facebook like, Google +1 or via Twitter, Pinterest, email or good old fashioned word of mouth. Thank you for supporting our efforts!
For additional research, search for your topic...
Also see...
Disclaimers: The information contained in this web site is provided for general informational purposes only. It is not intended as nor should be relied upon as medical advice. Rather, it is designed to support, not replace, the relationship that exists between a pet owner/site visitor and his/her local veterinarian(s). Before you use any of the information provided in the site, you should seek the advice of a qualified professional.
In the spirit of full disclosure, we wanted to let you know that we proudly support this website through advertising and affiliate marketing. In other words, when you click on a link that takes you outside of this website, we often earn a small commission. These small commissions allow us to keep the site up and running and to continue offering it completely free of charge to you. Rest assured that all content, recommendations and advice are created before, and are independent of, any sponsorship or affiliate relationship.
Click here
for more info.