Chronic Dog Ear Infections & Skin Problems
by Lisa
(St. Paul, MN )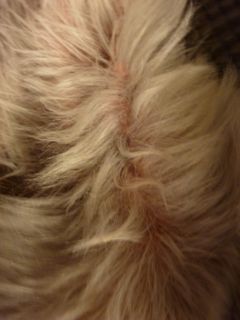 leg
My mother's dog Wicket (Shih Tzu) has struggled with skin and ear problems for quite some time. He itches all the time, chews on his feet, has persistent ear infections and his skin is very very pink with black patches.


For at least a year now, it has been a major problem. When my mom bought him as a puppy, the only issue we noticed was the fact that he had one ear that smelled really bad, and his skin seemed to be somewhat crusty, yellowish and flaky. He was treated for an ear infection at that time.
He continued to have ear infections in the one ear. His ear became very black at one point. The vet continued to prescribe ear drops for him.
He also continued to have the yellow crusty skin. So we put him on a different dog food thinking maybe he had a food allergy. He was put on Natural Balance duck and potato, which he likes. He seemed to do well on that particular dog food. We ended up switching him to a different dog food because we thought he should really be eating hard dog food instead.
We tried a few different kinds because he seemed to be a very picky eater. He didn't like any of the hard dog foods for some reason. This is when his skin trouble started to become an issue. He would scratch and itch all the time. His ear infections never seemed to clear up either.
His itching became so severe that the vet put him on a low dose of prednisone. His itching seemed to get better for a while, but that's when his skin trouble took a turn for the worst. He was all red and spotty on his belly. He would chew on his feet all the time. He would shake his head a lot, as if his ears were bothering him.
We finally took him into a dermatologist vet. He tested his skin and said it was not a bacterial issue. He made notes about how Wicket had skin issues on his belly, in between his toes, under his arm pits, neck. It seemed to be everywhere.
He gave a few recommendations as to what we could do. We decided to put him on Atopica. He was on the medicine for some time, and it really seemed to clear up all the spots he had all over his body. The spots looked like reddish specks all over.
The derm vet also prescribed him a shampoo called Chlorhexidine PS Shampoo. He said to bathe him about every three days.
Wicket seems to get so oily within a day or too. And then his itching gets even worse. After some time, it seemed as though Wicket became immune to the Atopica. It didn't seem to really be doing anything more for him. He would still itch and chew on his feet. The spots and blotchy dark patches on his skin seemed to improve, but the itching and chewing didn't.
We decided to stop using Atopica and now
he is taking Skin-Eze, a natural herbal treatment I found online. He takes 5 tabs twice a day. Plus, we have been giving him 1/4 of a pill of Benadryl which was recommended for the itching. He still gets drops in his ears for the persistent ear infection.
I have recently noticed a very dark crusty black patch under his chin as well. The patch is hard and crusty. I have been putting a gel on it called Silver Sol. It seems to be a little better, but it is not like anything he has had before.
Overall, his skin is very bright pink. For the most part, it is more noticeable on his belly, legs and chin. It is very black under his arm pits and under his back legs. The black seems to be in the areas where he is able to lick.
He feels very hot to the touch most of the time. It's almost like he has hot flashes.
He chews and licks on his feet a lot as well. We end up putting shirt on him most of the time, so he stops scratching himself. Otherwise he scratches until it bleeds and scabs.
Wicket is a very sweet dog. He loves people. He always seems very happy. He gets along with the few dogs that he has been introduced to before. If it is a dog he doesn't know, he isn't as friendly. He has a lot of energy.
He likes to bury himself under blankets. My mother says that he likes to in the air conditioning during the summer. He doesn't like to get hot. I have noticed that he does reverse sneeze from time to time. (My Shih Tzu does this as well).
He has a flatulence issue sometimes as well.
He also tends to have an issue with anxiety. He does not like loud noises at all. He gets startled and jumps at the slightest noise. I feel that he gets stressed very easily. He licks the air a lot, which I had heard might be related to anxiety.
I have also noticed that he drinks a lot of water. I'm not sure if this is because of the Benadryl or not, but it seem like a lot more than my Shih Tzu drinks.
I feel like we have tried everything to help Wicket, and nothing seems to be working. We have switched him back to Natural Balance duck and potato dog food, which he really likes. But I feel like this is way more than an allergy issue.
Wicket does get his yearly vaccinations. When he started having major skin issues, we didn't put any Frontline on him last summer, for fear that it would make his skin worse. But then he ended up getting fleas that summer.
I am hoping you can point us in the right direction. He is such a wonderful dog that still seems to be so happy, even though he is itching all the time. Please tell me what we can to to make Wicket's skin healthy again.
Regards,
Lisa
Want to ask our veterinarians a question but haven't subscribed to My Online Vet? Click here to learn how or click here to go back to the Ask a Vet Online Library of questions.
Want monthly "News You Can Use" and important Organic Pet Digest new content updates? Click here to sign up for our FREE Dog Care Monthly newsletter.
Do you believe in holistic pet care? If so, please tell your friends about us with a Facebook like, Google +1 or via Twitter, Pinterest, email or good old fashioned word of mouth. Thank you for supporting our efforts!
For additional research, search for your topic...
Also see...
Disclaimers: The information contained in this web site is provided for general informational purposes only. It is not intended as nor should be relied upon as medical advice. Rather, it is designed to support, not replace, the relationship that exists between a pet owner/site visitor and his/her local veterinarian(s). Before you use any of the information provided in the site, you should seek the advice of a qualified professional.
In the spirit of full disclosure, we wanted to let you know that we proudly support this website through advertising and affiliate marketing. In other words, when you click on a link that takes you outside of this website, we often earn a small commission. These small commissions allow us to keep the site up and running and to continue offering it completely free of charge to you. Rest assured that all content, recommendations and advice are created before, and are independent of, any sponsorship or affiliate relationship.
Click here
for more info.