Chiweenie with tumor
by Lynda Barkley
(Atlanta, GA)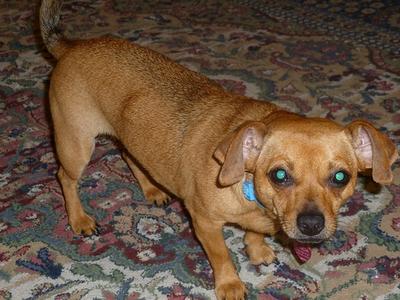 Four or five weeks ago I noticed a small lump on the right side of my Chiweenie, Millie. Her vet said it was nothing serious, that even if it grew and we had to remove it it was unlikely to be anything serious. A second vet said it was somewhat hard and attached to something deeper than the skin and recommended surgery. FNA wasn't going to work, he thought.


I started looking into surgery alternatives, and to make a long story short, got nowhere. The vets that had experience with less invasive methods (neoplasene,homeopathy, whatever) are out of town. A healthcare practitioner at a health food store gave Millie homeopathic and herbal drops, mainly for calming her, and the seemed to make the tumor grow. The lump had not grown until we started with the drops, maybe just coincidental.
She is scheduled for surgery in the morning. I got nervous when it started to grow and made the appt. I could go down lots of supplement roads till I found something that worked, meanwhile bad things could be happening inside her. I believe this is the right thing to do. I will look to the supplements, and one of my doctors, afterwards, depending on what it is.
I definitely don't want a biopsy. I want it to be removed intact if possible.
She is a very sensitive and emotional dog and I think that is a factor. I know that some tumors in people and dogs have emotional trauma roots. Millie was lost for 5 days back in March. Had to be traumatic for her. And she is traumatized in little ways every day. Also, she's been more nervous since this lump showed up. And for the last 4 or 5 days her eyes look different, a little squinty.
So I would very much appreciate your perspective and advice. Thank you, Lynda B.
Want to ask our veterinarians a question but haven't subscribed to My Online Vet? Click here to learn how or click here to go back to the Ask a Vet Online Library of questions.
Want monthly "News You Can Use" and important Organic Pet Digest new content updates? Click here to sign up for our FREE Dog Care Monthly newsletter.
Do you believe in holistic pet care? If so, please tell your friends about us with a Facebook like, Google +1 or via Twitter, Pinterest, email or good old fashioned word of mouth. Thank you for supporting our efforts!
For additional research, search for your topic...
Also see...
Disclaimers: The information contained in this web site is provided for general informational purposes only. It is not intended as nor should be relied upon as medical advice. Rather, it is designed to support, not replace, the relationship that exists between a pet owner/site visitor and his/her local veterinarian(s). Before you use any of the information provided in the site, you should seek the advice of a qualified professional.
In the spirit of full disclosure, we wanted to let you know that we proudly support this website through advertising and affiliate marketing. In other words, when you click on a link that takes you outside of this website, we often earn a small commission. These small commissions allow us to keep the site up and running and to continue offering it completely free of charge to you. Rest assured that all content, recommendations and advice are created before, and are independent of, any sponsorship or affiliate relationship.
Click here
for more info.