Cat with Nictating Membrane Showing on Left Eye
by Sandra K.
(Yellowknife, N.W.T.)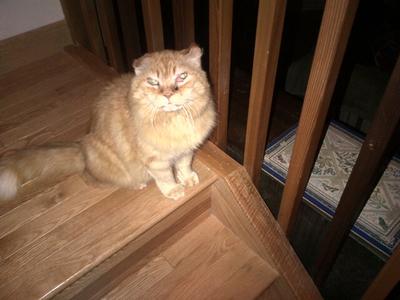 Felix with Nictating Membrane Showing on Left Eye
Felix, a 24-year old, red, neutered male cat has the nictating membrane showing over about l/3 of his left eye. It has been this way 48 hours or more.


As far as we know, Felix spent 22 l/2 years of his life in a small northern community where he was likely fed primarily raw wild meat and fish supplemented by table scraps. During that time he had no vet contact.
The elderly couple gave him to another family for care. They were abusive, neglectful and Felix ended up for 6 months living on the streets of another community where he had no care or resources. He was rescued after six months of starvation and an attack by a bear or wolf.
At the time of his rescue, he was starving, full of worms, ears infected with mites, eyes infected, teeth infected, ears frostbitten, and a wild animal had torn one ear and ripped the fur off his neck and upper back. When he survived his first night, the rescuer had him flown to Yellowknife for vet care.
The vet dealt with the immediate infections, then neutered him. Having survived the neutering, the vet sedated him a second time and cleaned up his teeth. The vet suggested Felix be adopted in Yellowknife so he could remain near a vet.
Felix moved in with us 13 months ago. He settled in with our other 5 rescued cats as though he'd always lived here. He is very friendly, loving, independent, resourceful and loves everybody.
We wonder if his back may have been injured in the past as he wobbles from side to side with his feet turned out when he walks. This gets worse if he has much belly weight. He does not seem to have any discomfort from this and he gets around quite comfortably.
Felix is fed the highest quality canned pet food that we have been able to order. Up until last July we were feeding wet food with gravy in the morning and dry food at night. We stopped feeding dry food 6 months ago so now all food is wet and he receives small amounts of wild meat and fish periodically. He eats well and regularly, drinks milk whenever he can persuade us to give it, and drinks his purified water. We have several big water bowls and a dog fountain which all our cats love.
Felix is active and loves playing hockey with bits of
paper or other toys. He is very affectionate, spending lots of time in laps, sleeping in a variety of places, and loves going to bed with us. One odd thing he does is lick and groom us, especially when we are in bed.
This is a semi-arid climate and we are indoors for a least 6 months of the year. The air is very dry and dry eye syndrome is a problem for humans. I have two humidifiers going here all the time. Don't know if the dryness may have contributed to the current problem despite the humidifiers.
Felix is very flexible. He enjoyed traveling over 15,000 km with us in RV from July to Nov. We traveled two weeks to Newfoundland, stayed there for two months, then traveled back. He is happy where ever he is, whatever we're doing. Loves people and new experiences. With sit with anybody.
During the time the nictating membrane has been presenting, Felix has not shown any signs of deterioration. He is eating well, sleeping well, grooming himself, and does not react if I feel around his eye for swelling.
On Saturday I gave him 6 ch Aconite as the only other one I had was 200. He had an excellent reaction to it, however, the membrane remained in place. Probably 12 hours or more later I decided to give him Ledum 30ch as I thought he might have scratched his eye during grooming. I could not see any scratch on his eye and his nails are clipped so it was a guess. Nothing changed.
I have put artificial tears in that eye twice to try to keep it from drying out. The membrane now seems a bit thickened. Above the eye may feel a little larger than the other but I do not know if that is always the case. He does not have any reaction to what is happening with his eye, does not rub it or seem to have any discomfort. He has had clear fluid running out of his eyes periodically ever since we adopted it and that is still the same.
I can take him to our vet today, however, he only knows allopathic vet care. I want to give Felix a chance to be cared for in a way that will be the least intrusive and help maintain his good health.
Can you diagnose what is happening to Felix's eye and recommend treatment?
Thank you, Sandra and Felix
Want to ask our veterinarians a question but haven't subscribed to My Online Vet? Click here to learn how or click here to go back to the Ask a Vet Online Library of questions.
Want monthly "News You Can Use" and important Organic Pet Digest new content updates? Click here to sign up for our FREE Dog Care Monthly newsletter.
Do you believe in holistic pet care? If so, please tell your friends about us with a Facebook like, Google +1 or via Twitter, Pinterest, email or good old fashioned word of mouth. Thank you for supporting our efforts!
For additional research, search for your topic...
Also see...
Disclaimers: The information contained in this web site is provided for general informational purposes only. It is not intended as nor should be relied upon as medical advice. Rather, it is designed to support, not replace, the relationship that exists between a pet owner/site visitor and his/her local veterinarian(s). Before you use any of the information provided in the site, you should seek the advice of a qualified professional.
In the spirit of full disclosure, we wanted to let you know that we proudly support this website through advertising and affiliate marketing. In other words, when you click on a link that takes you outside of this website, we often earn a small commission. These small commissions allow us to keep the site up and running and to continue offering it completely free of charge to you. Rest assured that all content, recommendations and advice are created before, and are independent of, any sponsorship or affiliate relationship.
Click here
for more info.