Canine Tumors: Diagnosis & Treatment Options
Canine tumors can be benign or malignant, and there are around 30 different types that your dog can contract (dog skin cancer being the most common).
We cover most types of dog cancer below, including each type's physical description and common treatment.
Before we go there, let's review…
What is a Canine Tumor?
According to Dictionary.com, a tumor is "an abnormal growth of tissue resulting from uncontrolled, progressive multiplication of cells and serving no physiological function." It obviously gets much more complicated than that...
Understanding the Difference Between Benign & Malignant Canine Tumors
In order to classify a tumor as benign or malignant, the tumor must be examined under a microscope in a lab. This is usually done by removing a small sliver of the tumor for examination.
Benign Tumors
The large majority of benign tumors are very slow growing and remain localized to one area of the body, usually causing little harm.
However, this does not mean that benign tumors should be ignored and deemed "safe". There are certain circumstances when benign tumors can cause serious problems.
Despite the location, many veterinarians recommend the removal of benign tumors simply to play it safe and get rid of the growth. Most benign tumors can be easily and permanently removed.
Malignant Tumors
Malignant tumors, also referred to as cancerous neoplasms, tend to grow rapidly and are known to spread from one area of the dog's body to another.
What differentiate malignant tumors from benign tumors are the characteristics of the cells. The cells of malignant tumors tend to have some degree of anaplasia. Anaplastic cells tend to be larger than normal cells and form themselves into bizarre shapes.
The nuclei, or center, of these anaplastic cells are usually very large and stained darkly. These cancerous cells infiltrate and destroy surrounding tissue and have the ability to transfer from one area of the body to another. When these cells transfer, they then produce secondary tumors called Metastases.
There are many methods of treatment for malignant tumors, but these, unlike benign tumors, cannot simply be removed through a one-day procedure. The treatment will be much more complicated and will involve a certain amount of risk, depending on the location, size and maturity of the tumor.
Are Certain Dogs Predisposed to Canine Tumors?
This is a very difficult question to answer.
There are a certain class of genes which, when mutated, predispose an individual dog to cancer. Through these mutations, the Tumor Suppressor Protein suffers a loss of function.
According to researchers, it is now clear that these genes play a critical role in the normal development, growth and proliferation of cells and organs within the body.
There are thousands of studies on the topic of predisposition to cancer, but very few which focus on the canine species.
Is the Growth of a Canine Tumor Reversible?
For the most part, the growth and formation of a tumor is irreversible. This is a result of a permanent cellular defect, which occurs when the cells mutate. The mutation is then passed on to the daughter cells.
There may be better news for dog skin tumors.
Until recently, scientists and doctors did not know of any type of treatment either topical or internal that could actually reverse the growth of dog skin tumors such as mast cell tumors or fiborsarcomas.
But a recent discovery in the world of holistic medicine has shown very promising results in the reduction and destruction of such tumors...
Are There Any Holistic Treatments Available to Cure Canine Tumors?
Within the last few years, a holistic medicine called Neoplasene has shown extremely promising results in the fight against canine tumors.
Neoplasene is derived from bloodroot, a plant used by Native Americans. This medicine is delivered to the dog's tumor through a salve (which is rubbed directly on the affected area), pills or injections.
According to Dr. Dressler, author of the Dog Cancer Survival Guide, "There are a variety of successes documented, especially with tumors of the skin like fiborsarcomas, mast cell tumors, mammary tumors, and others."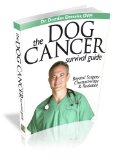 Neoplasene works by attacking the cells of the tumor and killing them off. In the successful cases, the tumor turns into a scab and falls off.
According to Dr. Elliot, a successful holistic veterinarian, "Many animals have been cured of cancer using Neoplasene without having to undergo surgery, chemotherapy or radiation." Dr. Elliot's success with Neoplasene has been documented in the New York Post, along with a story on the nightly news.
Neoplasene is strictly distributed to veterinarians and is not for use without the help and guidance of an educated holistic or traditional veterinarian.
The manufacturer's website allows you to download PDF files to print and share with your veterinarian for discussion.
There are additional holistic medicines and treatments that are said to work well in the fight against canine tumors both cancerous and benign. None have the drastic results of Neoplasene, but they should still be discussed with a holistic veterinarian in your area.
Talk with your holistic vet or ask a veterinarian online via My Online Vet for more details.
Overview of Different Types of Canine Tumors and Their Common Treatments
Listed in the chart below are different types of tumors, both malignant and benign, that can grow in the canine species. You will find the types of tumors, a brief physical description of each and the common treatment methods.
Each listed tumor can be clicked on, which will provide a link to more detailed and thorough information from an outside medical source.
You can also click on one of the following categories to jump to that section in the chart. Keep in mind that there may be multiple types of canine tumors per category in the chart (they are grouped alphabetically by body part).
After you review the chart, move on to the "What You Should Do Next" section below.
| Body Part | Tumor Name | Physical Description of Tumor | Common Treatment |
| --- | --- | --- | --- |
Canine Tumors - What You Should Do Next
If your dog has been diagnosed with a canine tumor, we understand that you are going through a very difficult time right now. With the help of advanced medicine, there are many things that you and your veterinarian can try to improve the tumor and to get your dog back to normal. But it might take patience to find the right veterinarian cancer specialist.
You can also take your dog directly to a veterinarian to get checked out. On the bottom of our Dog Vet Care page you will find a list of links to help you find a holistic veterinarian in your area.
Either way, if you have recently noticed an unusual growth on or abnormal color of your dog's skin or you have seen behavior that's making you think something might be wrong, you should seek a professional's advice as soon as possible.
Do you believe in holistic pet care? If so, please tell your friends about us with a Facebook like, Google +1 or via Twitter, Pinterest, email or good old fashioned word of mouth. Thank you for supporting our efforts!