Canine Acne Diagnosis, Treatment & Prevention
Canine acne looks a lot like human acne and can often be treated easily, inexpensively and naturally at home. But to prevent further outbreaks, "deeper" steps will need to be taken...
Dog Acne Symptoms & Dog Pimple Photos
While dog acne can be localized to one part of the body such as the chin or neck, it is often a widespread issue. Following are the symptoms:
Red or pink bumps/pimples
"Open" or "popped" bumps/pimples that may or may not have clear fluid leaking out
Here are a couple of close-up photos of dog pimples...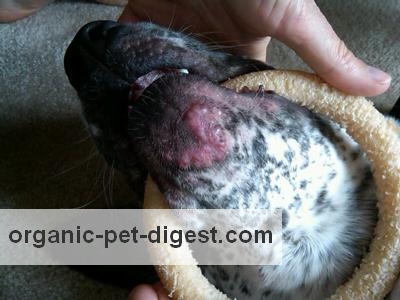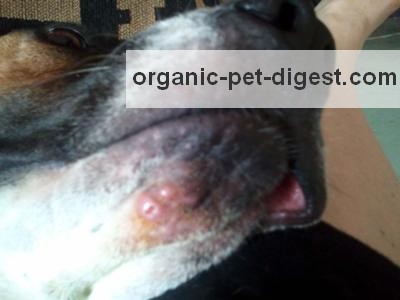 What Causes Canine Acne?
Dog acne consists of pimples or pustules that arise as a result of bacteria on the dog's skin.
The bacteria found on a dog's skin do not cause any problems in a healthy individual with a strong immune system. But dogs with less than ideal immune systems are much more susceptible.
Dog Acne Home Remedy, Vet Treatment & Prevention
Acne can take anywhere from 3 to 6 weeks to clear up with some corrections in diet, supplements and skin care.
One or more of the following steps should do the trick...
Clean the effected area(s) with baby shampoo and warm water or hydrogen peroxide, then gently squeeze the pimples. After the pimples have been squeezed, apply hydrogen peroxide which will act as an antiseptic. Do this one time each day for 2 to 3 weeks.
Improve your dog's diet:

Your dog's diet should consist of MORE canned, and LESS DRY dog food. Even better, consider a RAW dog food diet. See our page on 10 Best Dog Food Options for suggested brands.
Add immune supplements to your dog's diet. Our holistic veterinarians recommend the following three options to their patients:

Vaccinosis, or adverse reactions to vaccines that appear months to years after a vaccination has been given, may be suppressing your dog's immune system. Vaccines are especially likely to be a contributing factor if your dog received them within a few months prior to the canine acne outbreak.

Several homeopathic remedies exist to treat vaccinosis such as Thuya. Your local holistic veterinarian can guide you towards the best remedy, potency and frequency for your dog.

If necessary and appropriate, your holistic vet can also write an exemption letter against your dog receiving future vaccinations. See our Dog Vaccinations page for more info about vaccines and sample vaccination schedules.>
In some dogs with skin folds under their neck/chin area such as boxers, bulldogs or shar-peis, it is not unusual for bacteria to proliferate and lead to canine acne. Therefore, keeping the area very clean will help to prevent the problem. See our Dog Grooming Instructions page for details.

Still not sure whether your dog has acne or something else? Our veterinarians will answer your specific question no later than tomorrow... click here to ask a veterinarian via My Online Vet.
You can also scroll through a lengthy photo slideshow and related dog skin questions from other visitors here: Ask a Vet Online Library - Dog Skin Rashes, Marks, Spots, Lesions & Patches (including itchy skin and mange) Section
Do you believe in holistic pet care? If so, please tell your friends about us with a Facebook like, Google +1 or via Twitter, Pinterest, email or good old fashioned word of mouth. Thank you for supporting our efforts!
New! Comments
Have your say about what you just read! Leave a comment in the box below.
For additional research, search for your topic...
Disclaimers: The information contained in this web site is provided for general informational purposes only. It is not intended as nor should be relied upon as medical advice. Rather, it is designed to support, not replace, the relationship that exists between a pet owner/site visitor and his/her local veterinarian(s). Before you use any of the information provided in the site, you should seek the advice of a qualified professional.
In the spirit of full disclosure, we wanted to let you know that we proudly support this website through advertising and affiliate marketing. In other words, when you click on a link that takes you outside of this website, we often earn a small commission. These small commissions allow us to keep the site up and running and to continue offering it completely free of charge to you. Rest assured that all content, recommendations and advice are created before, and are independent of, any sponsorship or affiliate relationship.
Click here
for more info.