Bump, Then Flat Crusty Oval on Dog's Neck
by Alex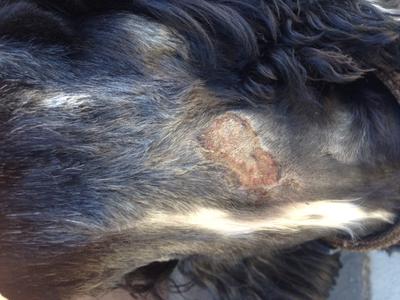 left side of neck
On Friday of last week my friend noticed a bump on the left side of my dog Lilly's neck. She doesn't like you to touch it. The bump disappeared and now there's a flat 1x1 inch oval with crust. She's itching and scratching it a bit more than normal.


Today, I also noticed a smaller area on the right side of her neck, looking very similar.
Also, maybe unrelated, she hasn't peed since I picked her up almost 24 hours ago.
What should I do?
Lilly is a female American Cocker Spaniel, almost 2 years old. Pretty healthy, around 18 pounds.
She is usually kept inside mostly in my ground floor apartment in downtown San Diego. While I was out of town, she and her brother (almost 9 year old male English Cocker Spaniel) stayed with a friend who has a house and yard (when the problem was found). She has no dogs herself.
Want to ask our veterinarians a question but haven't subscribed to My Online Vet? Click here to learn how or click here to go back to the Ask a Vet Online Library of questions.
Want monthly "News You Can Use" and important Organic Pet Digest new content updates? Click here to sign up for our FREE Dog Care Monthly newsletter.
Do you believe in holistic pet care? If so, please tell your friends about us with a Facebook like, Google +1 or via Twitter, Pinterest, email or good old fashioned word of mouth. Thank you for supporting our efforts!
For additional research, search for your topic...
Also see...
Disclaimers: The information contained in this web site is provided for general informational purposes only. It is not intended as nor should be relied upon as medical advice. Rather, it is designed to support, not replace, the relationship that exists between a pet owner/site visitor and his/her local veterinarian(s). Before you use any of the information provided in the site, you should seek the advice of a qualified professional.
In the spirit of full disclosure, we wanted to let you know that we proudly support this website through advertising and affiliate marketing. In other words, when you click on a link that takes you outside of this website, we often earn a small commission. These small commissions allow us to keep the site up and running and to continue offering it completely free of charge to you. Rest assured that all content, recommendations and advice are created before, and are independent of, any sponsorship or affiliate relationship.
Click here
for more info.