Brown & Red Patches Under Dog's Legs & On Belly with Crusty Skin Patches On Rib Cage
by Ava
(Topanga, CA)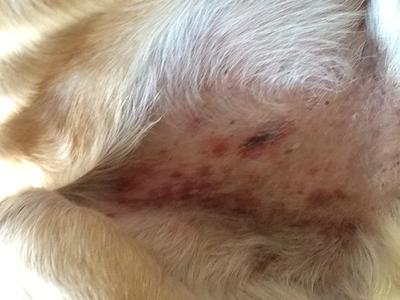 Belly
About a week and a half ago I noticed brown patches under my dog's front legs. A few days later I noticed brown and red patches on his belly, which he is licking regularly. As I examined further I saw some slightly crusty patches forming on his rib cage area, and all of the above had become worse.


I just adopted George, a yellow lab/golden retriever (I think) mix a month and a half ago.
I am feeding him a "raw" diet - a combination of Stella & Chewy's, Grandma Lucy's and Natures Variety. Just for kicks, I stuck to one of those foods for three days and it did not help slow the progress. It has now spread to his left knee area.
Keep in mind he was having the food for nearly a month before I noticed anything, so actually I doubt it's the food... but I thought I would mention it.
He has been with the sitter a bit over the holidays and she takes him on walks in the Canyon with the other 4 dogs she regularly sits for.
On his adoption intake form (dated 11/10/12) they noted a finding of ticks and abdominal clematitis? They were supposed to send him home with a prescription of Cephalexin 500mg Prescribed on 11/10 but forgot. They finally called to tell me that while I was away on Thanksgiving, so he was without it for about a week.
Upon my return, I picked up the prescription, but my sitter mentioned that was a strong antibiotic and there seemed to be nothing wrong with him, so I decided to wait to give it to him because I don't like to give them unless absolutely necessary. I would be willing to give it to him now if needs be, but would follow with a strong acidophilus after the course is done, upon your concurrence.
He is happy and energetic and exhibits no signs of illness. He only licks that area quite often.
The blood work upon adoption (dated 11/18/12) was good, with slightly elevated ALK. PHOSPHATASE and CK and slightly low TCO2. The adoption vet said this is normal for dogs under the stress of the abandonment/adoption process.
I have green tea bags, a pet friendly homeopathic healing cream, many many homeopathic remedies from Boiron, and some Asea water which is a salt water solution for advancing health.
Thank you for your help.
Want to ask our veterinarians a question but haven't subscribed to My Online Vet? Click here to learn how or click here to go back to the Ask a Vet Online Library of questions.
Want monthly "News You Can Use" and important Organic Pet Digest new content updates? Click here to sign up for our FREE Dog Care Monthly newsletter.
Do you believe in holistic pet care? If so, please tell your friends about us with a Facebook like, Google +1 or via Twitter, Pinterest, email or good old fashioned word of mouth. Thank you for supporting our efforts!
For additional research, search for your topic...
Also see...
Disclaimers: The information contained in this web site is provided for general informational purposes only. It is not intended as nor should be relied upon as medical advice. Rather, it is designed to support, not replace, the relationship that exists between a pet owner/site visitor and his/her local veterinarian(s). Before you use any of the information provided in the site, you should seek the advice of a qualified professional.
In the spirit of full disclosure, we wanted to let you know that we proudly support this website through advertising and affiliate marketing. In other words, when you click on a link that takes you outside of this website, we often earn a small commission. These small commissions allow us to keep the site up and running and to continue offering it completely free of charge to you. Rest assured that all content, recommendations and advice are created before, and are independent of, any sponsorship or affiliate relationship.
Click here
for more info.