Blood-Filled Growth on Dog's Abdomen
by Rachael
(El Paso, TX)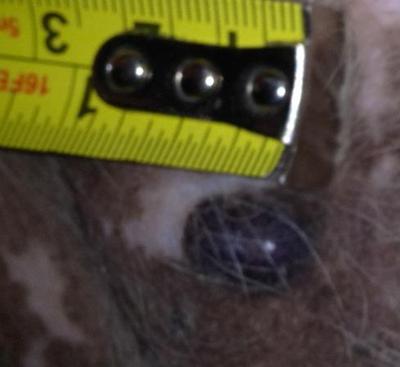 Kiki's Growth with Tape Measure
This growth on my dog Kiki's belly appeared first as a small red line-type mark years ago. Would disappear for a year or so then reappear at the same size. Then about 3 yrs ago the red mark gradually turned dark grayish black, remaining a small, flat-line type mark (no fluid inside).


Now this area is raised with a smooth, thin blister-type membrane and is filled with blood. The size seems larger to me - the growth is approx 1/3 inch long and 1/4 inch wide - perhaps due to raised and filled with blood. The growth is pliable, soft & sits on top her skin.
It doesn't appear to be attached. There is no solid mass beneath the "growth"; It pulls away from her body when the skin is manipulated.
I have drained the growth a few times. Bright red blood drains out with no water or pus. The membrane cover is flat, similar to blister skin when drained. The pin prick made to drain it seals over but within 24 hrs or less the growth has refilled with blood again, same size.
First noticed when I found blood spotting on her bedding several weeks ago. Kiki doesn't bother this area, no licking, scratching. There is no pain or irritation for her when I touch the growth. I rub her belly and that's all she thinks is being done.
Kiki is a 10 1/2 year old spayed female Basset Hound. She eats a diet of dry dog food with some snacks. Gets teeth cleaned when required, nails cut frequently. No health issues.
Was operated on when approx 11 mos due to swallowing 2 rocks which blocked up inside her, no complications from surgery, routine recovery. No repeated "rock" behavior.
Takes glucosamine/chondroitin daily. She weighs 43 lbs. ranges in weight from 42-44 lbs. She's active, plays daily, very vocal.
Lives indoors primarily. But is outdoors numerous times daily . Plays with our other dogs every day. Happy, Sweet, even temperament.
Any insight you can give me would be appreciated. Thank You.
Want to ask our veterinarians a question but haven't subscribed to My Online Vet? Click here to learn how or click here to go back to the Ask a Vet Online Library of questions.
Want monthly "News You Can Use" and important Organic Pet Digest new content updates? Click here to sign up for our FREE Dog Care Monthly newsletter.
Do you believe in holistic pet care? If so, please tell your friends about us with a Facebook like, Google +1 or via Twitter, Pinterest, email or good old fashioned word of mouth. Thank you for supporting our efforts!
For additional research, search for your topic...
Also see...
Disclaimers: The information contained in this web site is provided for general informational purposes only. It is not intended as nor should be relied upon as medical advice. Rather, it is designed to support, not replace, the relationship that exists between a pet owner/site visitor and his/her local veterinarian(s). Before you use any of the information provided in the site, you should seek the advice of a qualified professional.
In the spirit of full disclosure, we wanted to let you know that we proudly support this website through advertising and affiliate marketing. In other words, when you click on a link that takes you outside of this website, we often earn a small commission. These small commissions allow us to keep the site up and running and to continue offering it completely free of charge to you. Rest assured that all content, recommendations and advice are created before, and are independent of, any sponsorship or affiliate relationship.
Click here
for more info.