Blister-like growth on dog's front pawpad
by Anjali Walker
(London, UK)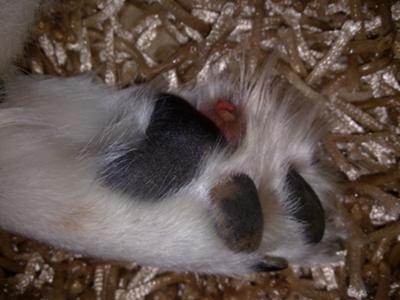 Scrappy Paw growth
My 10 year old Collie cross mongrel is a very fit and healthy dog but has been licking his front left paw a lot. He is as wriggly as an eel, so impossible to get a really good close-up look at the problem.
However, I managed to get a look when he was sleeping (paws in the air!), and managed to get a photo using zoom lens. It looks like a really nasty 'blister' or growth.
Online investigations suggest it might be one of those papillon warts, but thought it worth a closer check. He does not appear to be in pain, walking and running about as usual, and I have managed to dry his paws as normal after walking in the snow - but he still won't let me look at it!
I am keen to avoid very expensive vet bill as last time he cut his paw, the vet eventually had to put him under general anesthetic just to clean it and bandage it because he went mad! He's lovely dog otherwise by the way....
I hope the photos help to identify what it is, and any tips will be gratefully received.
Want to ask our veterinarians a

question but haven't subscribed to My Online Vet? Click here to learn how or click here to go back to the Ask a Vet Online Library of questions.
Want monthly "News You Can Use" and important Organic Pet Digest new content updates? Click here to sign up for our FREE Dog Care Monthly newsletter.
Do you believe in holistic pet care? If so, please tell your friends about us with a Facebook like, Google +1 or via Twitter, Pinterest, email or good old fashioned word of mouth. Thank you for supporting our efforts!
For additional research, search for your topic...
Also see...