Bleeding itchy scabs on dog's back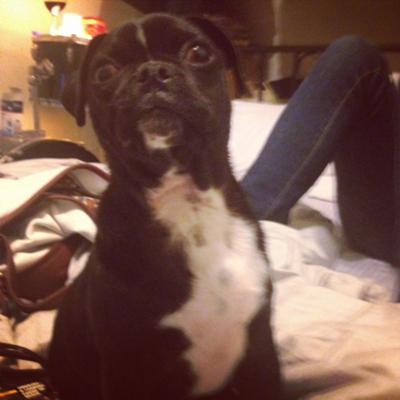 I Have a 6 month old pug/jack russel (Jug) with two scabs on his back. The first one appeared a few weeks ago, but he wasn't scratching it and we thought nothing of it. It has since grown and looks like a cluster of dry lumpy scabs. It is also quite thick and he still doesn't really pay attention to it.
The second has appeared within the last couple of days and he has been scratching it incessantly. It is raw and bleeding and there are small chunks of flesh around the wound that i am assuming he has scratched out of the scab. This evening i even found a sliver of skin with his fur attached in his water bowl.
We brought him from a pet shop and his diet consists of dry puppy food and occasionally leftovers or bones. He spends the days outside with an eight year old poodle/chihuahua who does not have much patients and can occasionally get a bit rough, so we initially thought it was possible that the wound near his neck was from fighting. We can't see any puncture wounds. He spends the night inside the house, and we are a little concerned that he may have a contagious skin condition as we also have an indoor rabbit.
Aside from the scratching and scabs/wounds his demeanor hasn't changed and he is still eating well, sleeping well and playing. I really appreciate your help.
Thank you
Want to ask our veterinarians a

question but haven't subscribed to My Online Vet? Click here to learn how or click here to go back to the Ask a Vet Online Library of questions.
Want monthly "News You Can Use" and important Organic Pet Digest new content updates? Click here to sign up for our FREE Dog Care Monthly newsletter.
Do you believe in holistic pet care? If so, please tell your friends about us with a Facebook like, Google +1 or via Twitter, Pinterest, email or good old fashioned word of mouth. Thank you for supporting our efforts!
For additional research, search for your topic...
Also see...