Black wart on side of dog's penis
by Simon Meyers
(London, UK)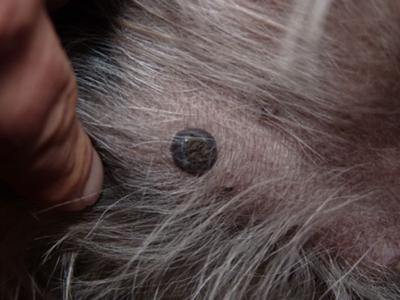 My dog has what looks like a black wart on the side of his penis. I thought it was a tick at first - but it's clearly not, and it's getting slightly bigger - not dramatically bigger but it's definitely enlarging.
It doesn't seem to be bothering him and it doesn't seem to be painful, but he is aware of it, and I've noticed him licking it - not obsessively but he is sensitive to it being touched/examined.
My dog is a 3-year-old very healthy and normal-weight Standard Schnauzer and eats a mixture of dog kibble and fresh chicken and meat.
Is this a wart that can be treated? Or is it something else? I know I should have it checked out in person but I won't be near a vet until next week.
Want to ask our veterinarians a

question but haven't subscribed to My Online Vet? Click here to learn how or click here to go back to the Ask a Vet Online Library of questions.
Want monthly "News You Can Use" and important Organic Pet Digest new content updates? Click here to sign up for our FREE Dog Care Monthly newsletter.
Do you believe in holistic pet care? If so, please tell your friends about us with a Facebook like, Google +1 or via Twitter, Pinterest, email or good old fashioned word of mouth. Thank you for supporting our efforts!
For additional research, search for your topic...
Also see...