Black Spot In Dog's Iris & Eye Bulging
by Christine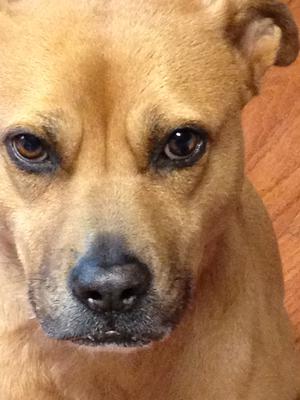 I a,m concerned about a possible serious problem in one of my dog's eyes. She is almost 7 years old and has a history of environmental allergies, and definite food allergies and intolerances. Her stomach is very sensitive and doesn't seem to fight off bad bacteria well.


She has had several extended periods of diahrrea when this bad bacteria builds up which have been treated with antibiotics, but fecal reports don't show any parasites or other infections.
She is fed an all raw diet, gets sardine/cod liver oil supplemented, and I use an organic digestive enzyme/probiotic supplement as well. I am in the process of adding in some immune support supplements as well as soon as they arrive in the mail.
Other than this, she has been healthy.
I recently noticed a black spot appear in the iris of her eye (at the bottom)... I have been watching it and it doesn't seem to have changed in size, doesn't float around and has fairly regular edges. At the end of last week, I noticed that eye looking somewhat bigger and bulging out a little.
Her pupils react when I shine a light in them, she doesn't seem bothered any of this at all,;but I do think I notice a slight milky/greenish tint in certain lights and angles and am not certain if that is normal. I am concerned with the possible development of cataracts, tumors, glaucoma, etc...
Is there anything I can do at home to try to reduce the bulging? I am planning to take her to the vet as soon as possible, but it would be better for schedule and finances to wait until after the first of the year; however, if this is something that has the potential to get really bad/harmful within a 2-3 week span, I will figure out how to get her there sooner. I
Also, her eyes water after eating and sometimes after being outside and on occasion, I see some mild redness in the whites of her eyes.
Thank you for your advice,
Christine
Want to ask our veterinarians a question but haven't subscribed to My Online Vet? Click here to learn how or click here to go back to the Ask a Vet Online Library of questions.
Want monthly "News You Can Use" and important Organic Pet Digest new content updates? Click here to sign up for our FREE Dog Care Monthly newsletter.
Do you believe in holistic pet care? If so, please tell your friends about us with a Facebook like, Google +1 or via Twitter, Pinterest, email or good old fashioned word of mouth. Thank you for supporting our efforts!
For additional research, search for your topic...
Also see...
Disclaimers: The information contained in this web site is provided for general informational purposes only. It is not intended as nor should be relied upon as medical advice. Rather, it is designed to support, not replace, the relationship that exists between a pet owner/site visitor and his/her local veterinarian(s). Before you use any of the information provided in the site, you should seek the advice of a qualified professional.
In the spirit of full disclosure, we wanted to let you know that we proudly support this website through advertising and affiliate marketing. In other words, when you click on a link that takes you outside of this website, we often earn a small commission. These small commissions allow us to keep the site up and running and to continue offering it completely free of charge to you. Rest assured that all content, recommendations and advice are created before, and are independent of, any sponsorship or affiliate relationship.
Click here
for more info.