Bilateral symmetric hair loss in 7 week old puppy
by Sarah Patrick
(Columbia, SC)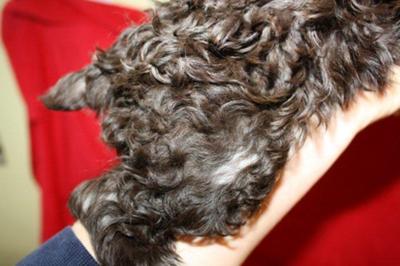 right knee spot
I am adopting a female cockapoo puppy from a reputable breeder. This week at her 7 wk check-up, the breeder asked the vet to examine some skin patches that had lost hair in the last 1-2 weeks.


The spots are on both ankles and the sides of both knees. The spots are bilateral and symmetric - the only difference is the left knee spot is slightly larger than the right knee spot.
The spots do not itch, flake or ooze. They are not red and do not appear to be bothersome to the puppy. There is simply just the absence of hair.
None of the other puppies in the litter, or the parents, have these kinds of symptoms. The breeder has not seen this before in any of her previous litters. Other than the hair loss, the puppy is normal and healthy.
The vet performed a skin scraping to test for mites/mange and also tested for ringworm. Both tests were negative. A small skin biopsy was taken from one of the spots, but the results won't be back for a week.
The breeder's vet said their best guess was that it was sort of benign pattern baldness, although that is not typically seen in cocker spaniels/poodles or in puppies this young.
I have to make a tough decision regarding whether to purchase this puppy. I am worried that this could be a symptom of something more severe. Any idea as to what could be causing the hair loss in such a young puppy?
If nothing abnormal is found in the skin biopsy results, can I assume that the problem is not severe? Are there any other tests or questions that I should request/ask of the breeder?
I'd also like to know if there is any way to tell if the condition is permanent - i.e. how long before new hair growth should be evident.
Thank you for any light you can shed on this puzzling situation!
Want to ask our veterinarians a question but haven't subscribed to My Online Vet? Click here to learn how or click here to go back to the Ask a Vet Online Library of questions.
Want monthly "News You Can Use" and important Organic Pet Digest new content updates? Click here to sign up for our FREE Dog Care Monthly newsletter.
Do you believe in holistic pet care? If so, please tell your friends about us with a Facebook like, Google +1 or via Twitter, Pinterest, email or good old fashioned word of mouth. Thank you for supporting our efforts!
For additional research, search for your topic...
Also see...
Disclaimers: The information contained in this web site is provided for general informational purposes only. It is not intended as nor should be relied upon as medical advice. Rather, it is designed to support, not replace, the relationship that exists between a pet owner/site visitor and his/her local veterinarian(s). Before you use any of the information provided in the site, you should seek the advice of a qualified professional.
In the spirit of full disclosure, we wanted to let you know that we proudly support this website through advertising and affiliate marketing. In other words, when you click on a link that takes you outside of this website, we often earn a small commission. These small commissions allow us to keep the site up and running and to continue offering it completely free of charge to you. Rest assured that all content, recommendations and advice are created before, and are independent of, any sponsorship or affiliate relationship.
Click here
for more info.