The Best Dog Training Book - 3 Options Depending on Your Situation
The best dog training book for you depends on your dog, your home or living situation, the type of behavior you expect or require from your dog, and of course… you, the dog trainer.

The following books are our top 3 choices for general dog training advice…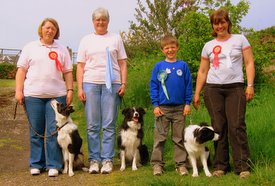 If you are seeking a dog training book for show dogs, working dogs or hunting dogs, then the following options will not likely be a good fit for you. But if you are training a new family pet, then these are excellent, well-rounded books with invaluable information.

Review all of them before choosing…
Cesar's Way by Cesar Milan
Surely you've heard of Cesar Milan, America's most sought-after dog behavior expert. He has a hit show on the National Geographic Channel called "The Dog Whisperer" where he goes into people's homes and helps to rehabilitate both dogs and dog owners. In his best selling book, Cesar's Way, "Cesar Milan shares the inside details of some of his most fascinating cases, using them to illustrate how common behavior issues develop and, more importantly, how they can be corrected."

This book not only teaches you how to train your dog but also how to develop a more rewarding connection with your four-legged companion. As loyal fans of the show and the book, we can highly recommend Cesar Milan as one of the best most insightful dog trainers around. Here are just a few examples of the issues covered:

What your dog really needs may not be what you're giving him
Why a dog's natural pack instincts are the key to your happy relationship
How to relate to your dog on a canine level
There are no "problem breeds" just problem owners
Why every dog needs a job
How to choose a dog that is right for you and your family
The difference between discipline and punishment
The price of this paperback book is $13.95 and the book is 320 in length.
What Color is Your Dog? Training Your Dog Based on His Personality "Color"
This exciting dog training book is definitely one of the most unique and convincing of its kind.
This book is written by Hollywood dog trainer Joel Silverman, and it teaches his successful dog training system that color-codes a dog's temperament before deciding what training methods are suitable.
In this book, Joel Silverman will first help you to classify your dog as one of the following…
Blue (shy)
Yellow (mellow)
Red (high strung)
Then he will move you forward with training practices developed specifically for your dog's color code. Through these training methods, Joel hopes to get each dog to a balanced middle color, where both dog and owner can feel happy and in control.
In What Color Is Your Dog?: Train Your Dog Based on His Personality "Color", you will also learn how to develop a strong, understanding relationship with your dog.
The Sit Down Come Heel Stay and Stand Dog Training Book
The Sit Down Come Heel Stay and Stand Book: A Step-by-step Dog Training Achievement Program is the best dog training book for young families with children or for people looking for a simplified basic training guide.
As you can probably tell from the title, this book is a guide to teaching your dog to obey and you to perform commands like sit, stay, and roll-over, among others. It does not cover behavior problems or solutions.
To help make it an easier read, it is bright and colorful book with tons of pictures on durable, laminated, spiral bound pages. There is also a well-designed progress chart with accompanying ribbon stickers to note your dog's progress.
Your family will have a blast spending time together with this one, and your kids will love it!
Do you believe in holistic pet care? If so, please tell your friends about us with a Facebook like, Google +1 or via Twitter, Pinterest, email or good old fashioned word of mouth. Thank you for supporting our efforts!
New! Comments
Have your say about what you just read! Leave a comment in the box below.
For additional research, search for your topic...
Disclaimers: The information contained in this web site is provided for general informational purposes only. It is not intended as nor should be relied upon as medical advice. Rather, it is designed to support, not replace, the relationship that exists between a pet owner/site visitor and his/her local veterinarian(s). Before you use any of the information provided in the site, you should seek the advice of a qualified professional.
In the spirit of full disclosure, we wanted to let you know that we proudly support this website through advertising and affiliate marketing. In other words, when you click on a link that takes you outside of this website, we often earn a small commission. These small commissions allow us to keep the site up and running and to continue offering it completely free of charge to you. Rest assured that all content, recommendations and advice are created before, and are independent of, any sponsorship or affiliate relationship.
Click here
for more info.