Acupuncture Dog Treatment
Acupuncture dog treatment may sound like a "new-wave" idea, but the practice has been used on animals by the Chinese for over 3,000 years!
Today, dog owners are (and should be!) lining up to be healed by the magic, tiny needles:
Acupuncture and disease prevention
What is Acupuncture?
The Power of Acupuncture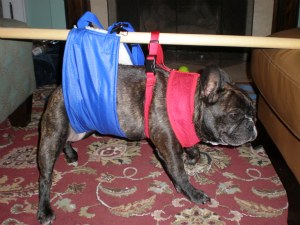 For amazing stories about the power of acupuncture, take a look at...
Both were submitted to our veteriarians from visitors to Organic Pet Digest via My Online Vet. Incredible!
Acupuncture is only one part of the entire system of Traditional Chinese Medicine (TCM). The others include diet, Chinese herbs, massage and breathing. This system of medicine is used to diagnose, prevent and treat disease and is based on the idea that the body always attempts to maintain a certain balance and will do what it can to regulate itself.
In TCM, disease is viewed as a health and wellness "blockage." Acupuncture helps remove the blockage by stimulating energy flow. This is accomplished by inserting tiny needles into specific parts of the body to get the attention of the nervous system.
According to the World Health Organization (WHO), "acupuncture has been proven effective in relieving postoperative pain, nausea during pregnancy, nausea and vomiting resulting from chemotherapy, and dental pain with extremely low side effects. It can also alleviate anxiety, panic disorders and insomnia."
Sounds great so far, but what about the "ouch" factor?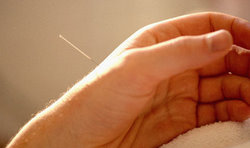 The needles used for acupuncture are very different from the needles used to draw blood or sew up a cut. Acupuncture needles are round at the head and are so fine that many patients don't even feel them being applied. Most patients describe the feeling as a mild pricking sensation. Others enjoy the application process.
"It does not matter whether medicine be old or new, so long as it brings about a cure. It matters not whether theories be eastern or western, so long as they prove to be true."
Jen Hsou Lin, DVM, PhD
How Does Acupuncture Dog Treatment Work?
Acupuncture needles applied to the outside of the body can actually affect the internal organs. Here is a specific example of from Barbara Fougere, BVSc:
"There is a point called Stomach 36 (ST 36), located just below the stifle (knee) and slightly on the outside of the leg in the dog and cat.
Acupuncture at this point relieves dog vomiting and nausea and has been shown in research to increase the number of circulating white blood cells in the body, thereby improving immunity."
Besides its ability to cure specific symptoms, acupuncture is also shown to stimulate the release of neuron-chemicals, including endorphins, which can provide pain relief or act as an anti-inflammatory hormone.
Conditions that Respond Well to Acupuncture Dog Treatment
Acupuncture is best known for its ability to treat mild to moderate pain in the body of a dog. It is also helpful for: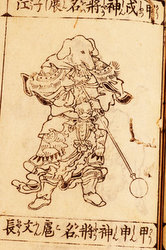 Behavioral Problems
Cancer
Digestive Tract Disorders
Heart Disorders
Immune Disorders
Muscle and Joint Problems
Nervous System and Spinal Problems
Reproduction
Respiratory Disorders
Urinary Tract Problems
The amount of acupuncture dog treatment your dog must receive depends on the symptoms and his individual reaction to the treatments.
How Much Time Does Acupuncture Dog Treatment Take?
According to the IVAS, treatments usually last 10 seconds to 30 minutes depending on the problem being treated. It may be necessary to bring your dog in for treatment 1 to 3 times per week for 4 to 6 weeks. It is noted by experts that a positive response is often seen within the first 4-6 treatments and sometimes earlier depending on the condition.
Acupuncture and Disease Prevention
You may be thinking that acupuncture is only effective in the treatment of current problems. Experts say that acupuncture dog treatment used throughout the life of your dog could also be beneficial. It is believed to create a stronger defense mechanism and to help dogs better handle everyday stresses. In other words:
Healthy Dog + Acupuncture = Even Healthier Dog
Taylor Tips! Sometimes my life can get a bit stressful, like when the dog park is closed or when my family has to be out of town for a couple of days.Maybe acupuncture could help me deal with some of these stresses!
Bottom line?
Acupuncture has enough supporting research to make it a viable option for your dog. If you can devote the time and afford the treatments, we recommend giving it a try, especially if other options are not working.
Is Acupuncture Dog Treatment Right for You and Your Dog?
Many dog owners have seen tremendous results from acupuncture and have tied it into their overall strategy to maintaining good health. Acupuncture dog treatment should especially be considered if:
You want to try natural alternatives before trying man-made medication
Medications have not been effective
Your dog is too old or weak to undergo surgery or anesthesia
Like many treatments, however, acupuncture dog treatment is not right for all dogs:
It can be costly (up to $100+ per session) and time consuming (1 to 3 times per week for up to 6 weeks).
Dogs being treated with acupuncture may take a few sessions to notice positive results.
It is not a "quick fix" for your dog's pain.
Does this sound like it could be a good fit for you and your little buddy?
If so, it is important to:
Learn if your dog's symptoms can be treated by acupuncture.
If you're still not sure after reading the rest of this page, you can ask our veterinarians directly whether it makes sense for your dog (along with what other options you have). Go to our My Online Vet page for more details.
Here is one of the My Online Vet questions asked (and pictures submitted) about dog acupuncture treatment by other visitors...
If acupuncture is the right treatment for your dog, ensure that the expert conducting the treatment is a certified professional...
The Chi Institute
The Chi Institute is the leading veterinary continuing education provider of Traditional Chinese Veterinary Medicine (TCVM). Their mission is to train licensed veterinarians to become cutting edge animal health care providers capable of practicing veterinary acupuncture, Chinese herbal medicine and other TCVM skills.
Click Here to search their directory of TCVM practitioners in the United States and around the world. Both searches can be found in the left margin of their web site.
The International Veterinary Acupuncture Society (IVAS)
The IVAS is a non-profit organization "dedicated to promoting excellence in the practice of veterinary acupuncture, as an integral part of the total veterinary health caredelivery system."
Click Here to search the IVAS database for a certified veterinary acupuncturist in your area.
Do you believe in holistic pet care? If so, please tell your friends about us with a Facebook like, Google +1 or via Twitter, Pinterest, email or good old fashioned word of mouth. Thank you for supporting our efforts!
New! Comments
Have your say about what you just read! Leave a comment in the box below.
For additional research, search for your topic...
Disclaimers: The information contained in this web site is provided for general informational purposes only. It is not intended as nor should be relied upon as medical advice. Rather, it is designed to support, not replace, the relationship that exists between a pet owner/site visitor and his/her local veterinarian(s). Before you use any of the information provided in the site, you should seek the advice of a qualified professional.
In the spirit of full disclosure, we wanted to let you know that we proudly support this website through advertising and affiliate marketing. In other words, when you click on a link that takes you outside of this website, we often earn a small commission. These small commissions allow us to keep the site up and running and to continue offering it completely free of charge to you. Rest assured that all content, recommendations and advice are created before, and are independent of, any sponsorship or affiliate relationship.
Click here
for more info.