2 dog skin patches circular in shape missing fur and scaly looking
by Cindy Jakubin
(Westminster, CO USA)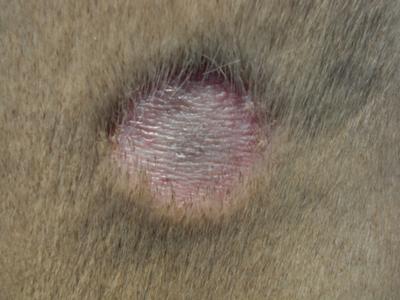 My dog is experiencing 2 patches of fur that are eaisly pulled off, and the skin is circular & scaly in apperance. He is an overall healthy 6yr old shar-pei.
I did try Lotrimin for a couple of days since I used a UV light on him & it seemed to flores around the outer edges of his patches. I have attached the photos. I thought it might of been fungal so I applied the Lotrimin upon application the skin turned bright red and then with in about 20 minutes went back to normal color, I'm not sure if this is a negative reaction to the ointment.
Thank you.
Cindy
Want to ask our veterinarians a

question but haven't subscribed to My Online Vet? Click here to learn how or click here to go back to the Ask a Vet Online Library of questions.
Want monthly "News You Can Use" and important Organic Pet Digest new content updates? Click here to sign up for our FREE Dog Care Monthly newsletter.
Do you believe in holistic pet care? If so, please tell your friends about us with a Facebook like, Google +1 or via Twitter, Pinterest, email or good old fashioned word of mouth. Thank you for supporting our efforts!
For additional research, search for your topic...
Also see...