1 Year Old Yorki-Poo Won't Use His Back Left Leg
by Jeff
(Wilmington, NC)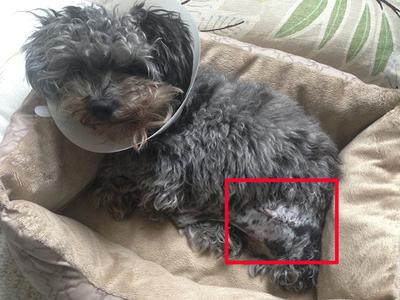 Mickey after surgery
We got Mickey, a 6 lb Yorkie-Poo, when he was about 9 months old. Everything was fine until about 3 months later when he started limping. He quickly stopped using his back left leg entirely over the course of just a few weeks.


We took him to the vet who performed an exam and took x-rays but could find nothing wrong. She thought it must just be a bruise or a sprain and said it should clear up.
We subsequently moved to Mexico for 3 months where the issue persisted. We took him back to the vet when we returned.
This time, the x-rays showed deterioration of the femoral head (the "ball" of the upper leg bone or femur that fits into the hip socket) which, according to the vet, was likely the result of a common issue in small dogs called Necrosis of the Femoral Head or Legg-Calve-Perthes Disease.
Basically, the "ball" of the joint (the femoral head) slowly dies as a result of no or little blood flow to the area.
The vet's recommendation was surgery which supposedly has an excellent prognosis.
We considered holistic options such as those mentioned here: http://www.huffingtonpost.com/tricia-spencer/digger-dogs-holistic-triu_b_4268881.html
However, the vet said that the longer we wait to have surgery, the worse Mickey could get in terms of muscle atrophy and a permanent habit of not using the leg.
We moved forward with surgery and Mickey is now in recovery and doing well. We will start physical therapy tomorrow which sounds like it will last for at least 6 weeks in order to get Mickey back to normal.
Total surgery cost was $1,426 (see attached bill for breakout of fees). I have also attached the discharge and rehab instructions.
Wish us luck!
Jeff
Join in and write your own page! It's easy to do. How? Simply click here to return to Ask a Vet Online via My Online Vet (SUBSCRIPTION REQUIRED FOR NEW QUESTIONS).
Want to ask our veterinarians a question but haven't subscribed to My Online Vet? Click here to learn how or click here to go back to the Ask a Vet Online Library of questions.
Want monthly "News You Can Use" and important Organic Pet Digest new content updates? Click here to sign up for our FREE Dog Care Monthly newsletter.
Do you believe in holistic pet care? If so, please tell your friends about us with a Facebook like, Google +1 or via Twitter, Pinterest, email or good old fashioned word of mouth. Thank you for supporting our efforts!
For additional research, search for your topic...
Also see...
Disclaimers: The information contained in this web site is provided for general informational purposes only. It is not intended as nor should be relied upon as medical advice. Rather, it is designed to support, not replace, the relationship that exists between a pet owner/site visitor and his/her local veterinarian(s). Before you use any of the information provided in the site, you should seek the advice of a qualified professional.
In the spirit of full disclosure, we wanted to let you know that we proudly support this website through advertising and affiliate marketing. In other words, when you click on a link that takes you outside of this website, we often earn a small commission. These small commissions allow us to keep the site up and running and to continue offering it completely free of charge to you. Rest assured that all content, recommendations and advice are created before, and are independent of, any sponsorship or affiliate relationship.
Click here
for more info.